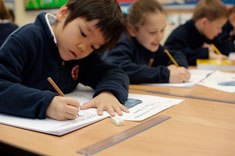 The British School in Tokyo (BST) has enjoyed an enviable reputation for the provision of high quality education since first opening its doors in Shibuya 25 years ago, and the past year has seen its star rise even higher.
An Executive Member of the Council of British International Schools, and one of only 48 schools worldwide to have been independently inspected and accredited under the new standards for British Schools Overseas, BST has long recognised the importance of recruiting, developing and retaining outstanding teachers.
In recognition of this, at the 2013 BCCJ British Business Awards, the school became the first recipient of the Global Talent award, sponsored by the British Council Japan.
We regard this as a special honour and a very timely endorsement of the high standards we set for ourselves as we prepare to celebrate our 25th anniversary.
Following the achievements of our first A-level students and their success in winning places at some of the top universities in the UK, the class of 2013 was keen to emulate its predecessors.
Just the second cohort of 18-year-olds to graduate, this year's group certainly set the bar high for those who will follow them. Remarkably, more than 40% of all entries were graded A*/A, and well over 60% were awarded a B grade or better.
Given that no fewer than 10 A*/A grades were attained in Maths and Further Maths, it is perhaps not surprising that seven students are now studying at either the London School of Economics and Political Science, University College London or Imperial College London.
Other courses followed by BST's latest alumni include Architecture at Glasgow, English Literature at Reading and Chemical Engineering at Manchester.
Further highlights were the achievement of six A*/A grades in the Extended Project Qualification and three Distinctions awarded in the AQA Baccalaureate, clearly illustrating that a balanced BST education is both well-rounded and tailored to accommodate the particular interests of individual students.
The relatively recent introduction of A levels at BST has led to a dramatic increase in enquiries from ambitious students of all nationalities who are keen to win places at prestigious universities overseas.
In 2013, the number of graduates rose again, and students have been offered places at some of the UK's most sought-after institutions. But Britain is not the only destination of choice.
Young people today see themselves as global citizens and they recognise that A levels offer an academic passport that can take them almost anywhere. There is certainly increasing interest in the US and a number of students are looking towards Australia and New Zealand.
Most universities worldwide are very familiar with Britain's public examination system and are more than happy to accept students with A levels or their equivalent.
In fact, the specialist nature of British Sixth Form courses means that students with better grades can expect to earn significant credit—sometimes up to a whole year's worth of study.
At Harvard University, for example, students need to have at least three A/B grades to matriculate (earn a place), but three A grades will merit a full year's academic credit.
Boston College will offer two courses of credit for A/B grades, while C grades will earn one semester's credit.
Plus, Princeton clearly states on its website that A/B grades will earn Advance Placement credit. It is a similar story across the world.
As an international school of 775 students aged 3–18, BST is, of course, much more than an A-level school. All examinations are important, and many parents are impressed by the rigour and structured progression of our particular brand of British education.
That said, students here learn so much more than how to pass exams. Sport, music and drama are woven into the fabric of school life, and both community service and adventurous activity are real strengths.
From their early years in our Nursery and Reception classes, children are given countless opportunities to develop the independence and resilience that will enable them to take the next step in their education—wherever it might take them—with confidence and a smile.