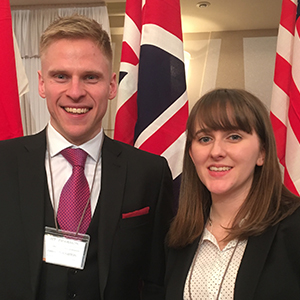 More than 100 new participants in the Japan Teaching and Exchange Programme (JET) arrived in Tokyo in mid-April to start their careers as teachers or coordinators for international relations across the country. Two representatives of Britain were eager immediately to put their skills to work.
Just 24 hours after landing in Japan, Bethany Scott, 22, from Northwich in Cheshire, and 27-year-old James Boughton, from Bournemouth, were preparing to head to their assignments as assistant language teachers in elementary and secondary schools. Scott had been assigned to two schools in Nara Prefecture, while Boughton was preparing to set out for Kochi Prefecture in Shikoku.
Perhaps unusually, Scott and Boughton had previously spent some time in Japan, and their decisions to apply to become JET teachers were largely inspired by their earlier experiences here.
"I studied chemistry at Newcastle University, but I spent one year of my degree conducting research at Kyushu University in Fukuoka and by the end of my time there I just knew that I wanted to come back again", said Scott.
Speaking with BCCJ ACUMEN during a reception at the Hotel Le Port Kojimachi after a day of orientation and instruction from the organisers of the JET programme, Scott said she was interested in a career in education and had worked in the office of a local primary school after graduation and while waiting to depart for Japan. "I am very fortunate because I have had a message from my predecessor in the positions and she has given me lots of information about the schools—one sounds quite traditional but the other one is perhaps more modern—and some tips on what to do and what not to do", she said.
Scott said she was "a little nervous" about being in the classroom, but was really looking forward to getting involved in the local community in Nara, including the summer festivals, and looking forward to her mother coming to visit at some point during her stay.
"When I was in Kyushu, I made some really good friends. I love the environment in Japan—it feels safe and welcoming and I feel very comfortable—so I am sure I will settle in very quickly", she said.
And while JET participants are required to complete a minimum of one year in their positions and can stay a maximum of five years, Scott reckons she will be teaching in Nara for three years—"and then I will see how I feel, but it is very possible that I will stay on in Japan".
Open-minded
Boughton has similar long-term plans for his newfound home. "I first came to Japan five years ago on holiday and I immediately fell in love with everything about the country", he said. "There is just something about the country that is so very different to what I imagine most people are used to—and being here is completely different to being in Bournemouth.
"I love the food, the culture, the history and the people are always so polite and friendly", said Boughton, who left a career in commercial insurance to take up the teaching post in Shikoku.
"I have been back several times since that first visit and each time I have come across something new and really interesting and I just reached the conclusion that Japan is where I wanted to be", he added.
Boughton did his homework before heading off to Kochi, which is the home prefecture of Sakamoto Ryoma, who helped pave the way to the Meiji Restoration. Boughton says he wants to teach for at least two years, during which time he hopes to "really nail the language". "
I really enjoy the teaching, but I am also very open-minded about the entire experience and I am looking forward to building new relationships with the people I will be working with and meeting on a day-to-day basis, as well as with my students", he said.
Most welcome
Hiroaki Isobe, executive consultant for the Council of Local Authorities for International Relations, which administers JET, says the programme is important for the future of Japan.
"JET helps to internationalise or globalise Japanese society and that is extremely important", he said. "The programme has been going for more than 30 years now, and in that time it has developed in terms of the quality of the teachers or local coordinators and the work that they do in Japan".
The JET programme can trace its history back to 1978, when it was exclusively for British university graduates and known as the British English Teachers Scheme. It was broadened out in 1987, taking on its new name and accepting graduates from other countries. The world's largest exchange programme, it is run by three Japanese ministries—foreign, education and internal affairs and communications—with close to 60,000 participants from 54 countries having taken part to date.
"It can also be said that the JET participants are contributing to the local and national economies of Japan by promoting the towns and regions that they are posted to", Isobe said.
"For us Japanese, they are most welcome and we value their ideas and experience", he added.