Richard Thornley knows a thing or two about good engineering. An engineer by training, he has worked for several world-class brands, including Rolls-Royce. Living in Japan since 1996, he is representative managing director of Bell Helicopter Co. Ltd.
"People who ride helicopters, because they don't have much time, love fast cars", Thornley said. So what does he make of the 2016 Lexus GS F?
Before stepping into the slick new model, he looked under the hood. "What a meaty engine", he said, taking in the GS F's V8, five-litre engine.
"There is not much room left beneath this hood for anything else", he added. "It looks really powerful. And the car itself is sportier than I had imagined".
The GS F's low profile, and front and side grills caught Thornley's eye as he walked around the car.
"These wheels are fantastic", he said, pointing out the car's 10-spoke forged alloy wheels. "I've never seen anything like it".
As he pulled out from the Westin Hotel in Tokyo's Ebisu district, some passersby gathered to take photos of the car. A light purr emerged from the engine as the GS F's eight-speed Sport Direct Shift came alive. Slick in the afternoon sunlight, the five-passenger performance sedan moved like liquid blue motion into light traffic.
"The seat really hugs you", he said. "It would hold you around any corner. And it feels really low, giving you a real connection with the car and road".
Indeed, the GS F's driver-inspired cockpit is complete with low-set seating designed to place the driver closer to the vehicle's centre of gravity. From the design of the sporty steering wheel and paddle shifter, the dashboard displays, and even the racing pedals, everything has been engineered to connect car and driver as never before.
"The dashboard looks like something from the aerospace industry", Thornley remarked.
According to Thornley, who has experience driving Italian, German and Japanese cars, he has had some issues concerning reliability with his Italian model, but German and Japanese cars are very competitive.
His relationship with Japanese brands goes back to when he was a graduate student in Bath, Somerset. He last sat in a Lexus during a test-drive 10 years ago. Has anything changed about the Lexus since that experience?
"The styling has changed", he said. "The navigation system, for example, is very big. That screen is huge. And I like the carbon weave, too, which I prefer to the old mahogany—it feels younger and stronger".
As traffic was light in the Azabu-Juban area of Tokyo, Thornley opened up the throttle even while driving in the fuel-saving Eco mode.
"It feels quite lively, and the sound from the exhaust is excellent", he said.
When he reached Takeshiba Pier, just around the corner from Hamamatsucho Station, he managed a short burst of speed in Sport S mode. "That's a nice little pick-up. It's very impressive. The car clearly has bags of power", he said.
With a top track speed of 270kph, the GS F can do zero to 60 in 4.5 seconds, delivering 467 horsepower.
"When I drive, I usually go long distances, to places like Hakuba in Nagano. If I had this car, I could see myself in the third lane mostly", he said.
On this occasion, Thornley settled for the tight bends and curves that lead up to the Rainbow Bridge. "Now that is some impressive Japanese engineering", he added.
Culture of design
Exceptional design is a cornerstone of the Lexus brand. As such, the luxury automaker endeavours to support up-and-coming designers and the creative community at large.
Now in its fourth year, the Lexus Design Award (LDA) is an international competition targeting designers whose ideas could shape a brighter future. This year, of 1,232 applications, Lexus selected four finalists under the theme "Anticipation"—anticipating the needs of people and society. These innovators are paired with leading designers in their industry, who help turn their prototypes into reality.
The finalists and their prototypes are then featured as part of the Lexus exhibit at the annual Milan Design Week. As the culmination of LDA, one Grand Prix winner is chosen. Last year it was Sense-Wear, a line of garments and accessories that stimulates all five senses.
And it is no coincidence that Lexus chooses to participate in an Italian design event. "We study the fashion sector, looking at high-end Italian designers and their stores, to get inspiration", said Atsushi Takada, general manager of the Lexus brand management division.
"Germans and Japanese are very good at making products. But in terms of culture and lifestyle, Italian brands are the leaders", Takada said. That is one reason the firm chose to locate its INTERSECT café in Tokyo's fashionable Aoyama district.
Lexus has recently introduced another aspect of community engagement: Dining Out. For this event, the brand sends a Michelin-starred chef to rural Japan, to prepare a special menu in collaboration with local housewives and restaurateurs.
At the most recent event—which was held for an exclusive audience on one night only—the brand partnered with resident ceramics artisans in Arita, Saga Prefecture, to produce exclusive flatware for the night.
"I think all these things are the role of a luxury brand", Takada said. "We have to contribute to culture. Even if it doesn't contribute to our sales immediately, in the long term it will benefit our brand image and sales".
Discover the Lexus driving experience at International Gallery Aoyama; explore the Lexus lifestyle at INTERSECT BY LEXUS.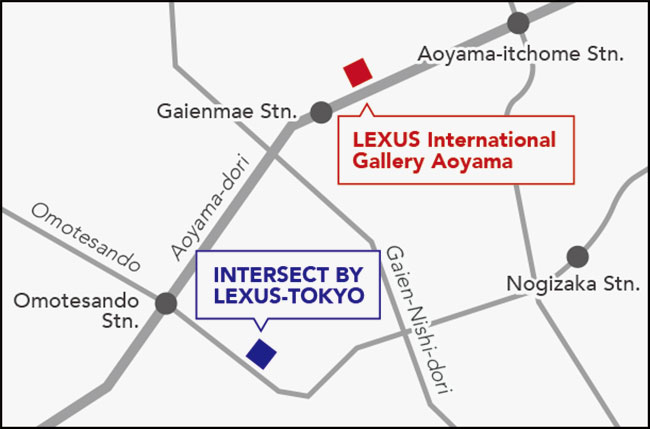 ■ LEXUS International Gallery Aoyama
Address 2-5-8 Kita-Aoyama, Minato-ku, Tokyo
Tel 03-5786-2711      » See more
---
■ INTERSECT BY LEXUS-TOKYO
Address 4-21-26 Minami-Aoyama, Minato-ku, Tokyo
Tel 03-6447-1540      »See more