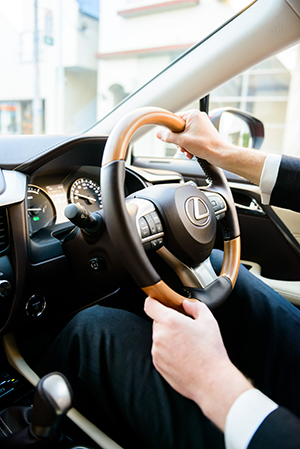 Even before he stepped into the new Lexus RX, Neil Cherry was impressed. An executive in the financial services sector, he took in its bold lines as the sun peered over the Tokyo skyline. With soft rays bouncing off the hybrid SUV's crimson body, Cherry could barely contain his enthusiasm.
"It's a gorgeous car", he said. "It has a wonderful appearance from the front: sleek and incredibly elegant, and it looks very well finished".
It was not just the glistening curves of the RX that caught Cherry's eye, but also the new alloy wheels and signature spindle grill that provides an elegant and futuristic air.
Taking to the road
While Cherry is no stranger to driving high-end models, this was his first test drive of a Lexus. And he admits to appreciating a good drive.
At some two meters tall, Cherry, on stepping into the RX, experienced his knees brushing against the steering wheel. But, with a simple adjustment of the new sports steering wheel, he fitted perfectly, leaving plenty of room to spare above his head.
It was then time to put the RX 450h Atkinson-cycle 3.5-litre V6 engine to the test. The engine is the latest iteration of the Lexus Hybrid Drive system that, when combined with an electric motor, can produce 300 horsepower.
From Hiro, Cherry drove towards Roppongi and Shibuya, where most of the city's sleepy streets had yet to come to life.
He was, at first, struck by the difference between driving an American SUV and the RX. "It's like chalk and cheese", he said.
Experiencing Lexus
Driving has always meant a number of things to Cherry. In his home country, the UK, it was his means of commuting. In Australia, where he spent 15 years before moving to Tokyo, it was a way to enjoy long-distance trips in open country with his family. In Japan, it is his current mode of transport for family vacations.
Since moving here, he has not owned a car. The last car he hired was a high-end German marque, and he recalls it was hard to drive—especially compared to the RX.
Cherry was pleasantly surprised to learn that the RX is an SUV built for city, off-road and long-distance driving.
Hybrid redesigned
Using the Drive Mode Select controls, the driver can choose from among the AVS-enhanced Sport S+, Eco, Normal and Sports S settings. "The change from one mode to another is incredibly smooth", Cherry said. "And the delivery is amazing".
However, the real kick came when he selected the Sport S+ mode. "You can hear it immediately", he said. "It has a real grunt to it".
It was not just the drive that he found pleasing, but the overall feel of the RX and its sophisticated interior: "I love this finishing. It is extremely sleek. It feels as though it is handcrafted. There is nothing you can see to find fault".
As he pulled up at Gotanda Station to go to a meeting, Cherry reflected on his first Lexus test drive.
"Before the test drive I was thinking, 'I have a lot on this morning'. But now I want to stay out driving", he said.
"I've always thought of the Lexus as a superior car—that's always been my impression. And, actually, for me it's always been a bit of a mystery why I've never had one myself. That's why I'm delighted to see what it's like. It's wonderful. And I can't wait for my family to try it out".
Aggressive marketing
Some people expect a smooth, comfortable and quiet journey when driving a premier vehicle. Lexus provided just that—until 2012, when Japan's original luxury automaker embarked on a total rebranding. Atsushi Takada, general manager of the Lexus Brand Management Division, has been a leader in this new chapter for the firm.
After launching in 1989, Lexus became a challenger of the German trio of luxury auto marques. Established with core competencies of "super quality" and "omotenashi" (hospitality), Lexus distinguishes itself from other brands as a manifestation of traditional Japanese values, particularly a dedication to one's craft.
"We pride ourselves on craftsmanship and the Lexus lifestyle", Takada said.
Defining this Lexus lifestyle, and communicating with the new target market of young, influential drivers, have shaped marketing activities in recent years.
"We maintain our core competencies, but wanted to make Lexus more emotional, more cool, more sexy, more aggressive—overall, more fun to drive", Takada explained. "This way, we can be a unique brand in the luxury market. Many people have noticed that Lexus has entered a new era", he added.
The Lexus reboot began with product modifications, featuring three new defining elements. First, the iconic spindle grill on the front of the car was enhanced. Next, product specialists turned to the vehicle's performance, aiming to make the driving experience more aggressive and fun.
"Before starting this change process, many people saw Lexus just as a comfortable, silent car", Takada said.
Finally, the third element of the renovated Lexus brand is the expansion of hybrid and other offerings.
With the product perfected, Takada and the team then turned to marketing communications. A host of creative non-traditional initiatives were launched to connect with the "early adopters" Lexus sought to woo.
With one of the brand's latest advertisements attracting around 40mn views online, they certainly seem to be on the right track.
Discover the Lexus driving experience at the International Gallery Aoyama; explore the Lexus lifestyle at INTERSECT BY LEXUS.
Find out more about INTERSECT BY LEXUS in the next issue.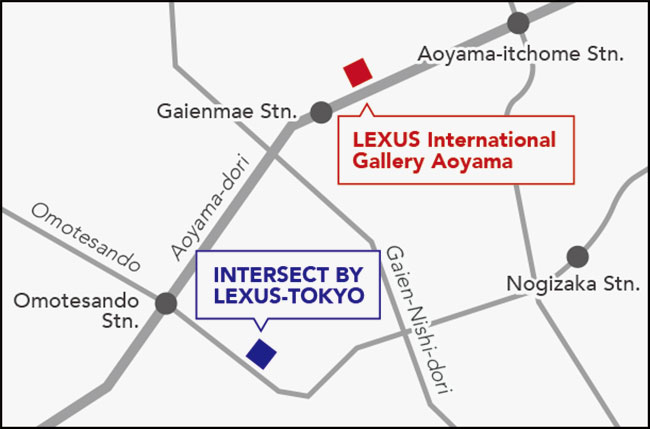 ■ LEXUS International Gallery Aoyama
Address 2-5-8 Kita-Aoyama, Minato-ku, Tokyo
Tel 03-5786-2711      » See more
---
■ INTERSECT BY LEXUS-TOKYO
Address 4-21-26 Minami-Aoyama, Minato-ku, Tokyo
Tel 03-6447-1540      »See more