To celebrate the best of the best within the Japanese recruitment industry, digital marketing agency Custom Media and talent recruiter TALiNT Partners teamed up to host the annual TALiNT International Annual Recruitment Awards (TIARAs) ceremony. The awards programme, formerly known as the Recruitment International (RI) Awards, was relaunched under the new name after the 2019 merger of TALiNT Partners and Recruitment International.

Global recognition
On 17 November, nominated recruitment firms and a large audience of interested parties all turned on their computers and joined the virtual ceremony, hosted from Tokyo by radio DJ Madoka Kato and from London by David Head, director at TALiNT International. The ceremony was kick-started with a welcome speech from the two hosts.
"We're delighted", said Head, "to see you all here tonight to celebrate the best of the best from the world of recruiting. The past 18 months have been truly tumultuous for us in recruitment. The market now has never been hotter, and every­body is working harder than ever. So, when we rebooted the Recruitment International Awards as the TALiNT International Annual Recruitment Awards back in 2019, we wanted to set a new industry standard".
Kato elaborated on this. "The TIARAs", she said, "are now the largest global programme to recognise excellence across the four key audiences of the talent ecosystem: talent solutions, talent tech, in-house talent acquisition and, of course, recruit­ment. It is a pleasure to recognise those championing recruitment as a professional service and demonstrating true excellence, game-changing innova­tion and pandemic-defying growth".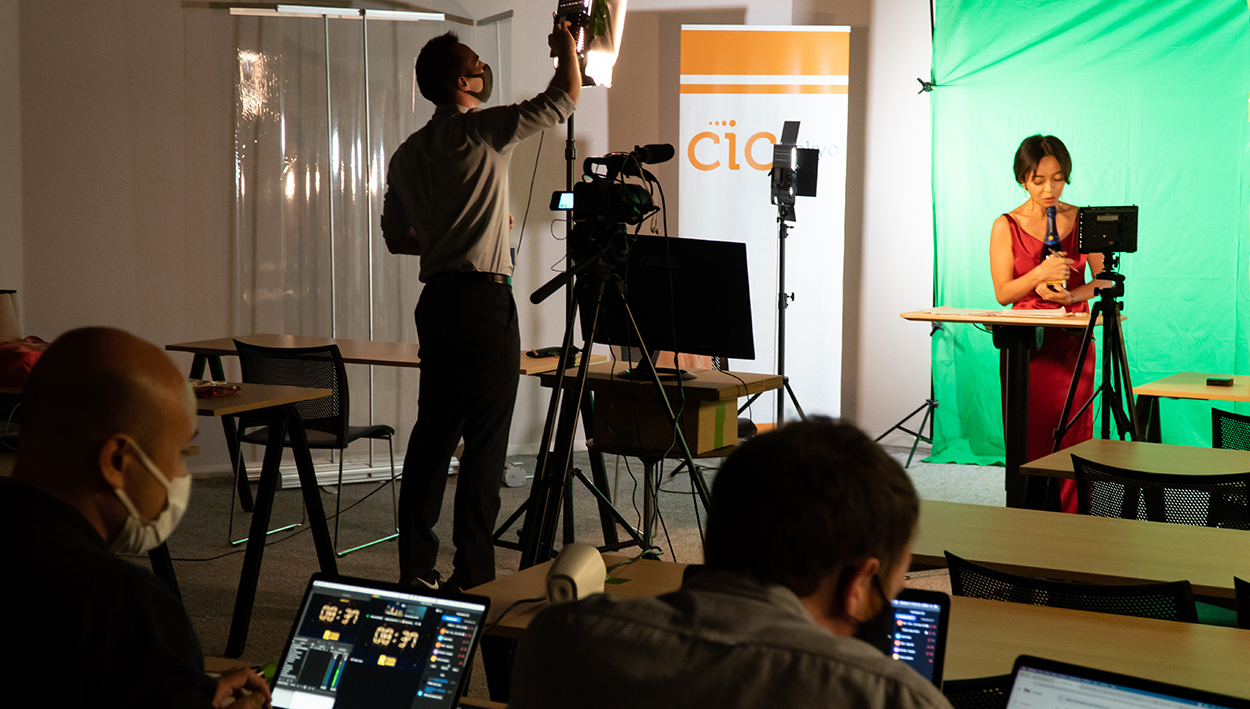 Sponsors and goodies
While the event was fully virtual, the firms nomi­nated did not miss out on an in-person celebration. Gathered in their respective offices, TIARAs nominees enjoyed boxes of nibbles, and products from Chateau la Gordonne, Vranken Pommery, Champagne Monopole Heidsieck Co., Fever-Tree, Whisk-e Ltd, as well as Irish whiskeys from The Busker, which had been delivered by the awards organisers.
Firms shortlisted for an award all received boxes containing bottles of alcoholic beverages provided by sponsors. After they had been announced, the winners each received a bottle of Champagne Monopole Heidsieck. And for the runners up? A bottle of Gordonne Vérité Rose.
Take home the crown
The Media and Digital Recruitment Company of the Year award went to renowned recruitment firm RGF Professional. Accepting the award was Hidetaro Kono.
He noted: "We are very honoured. This means a lot to me. I joined RGF five years ago and I attended this event in 2018 and 2019. I was dreaming about winning one of them in the future. I'm thankful to all the clients and the candidates that support RGF".
The award for the Best Healthcare and Life Sciences Recruitment Company was won by SThree K.K. Managing Director Chris Reilly said: "This is the second time we have picked up this award in the last three years. So, it's a real privilege. Our life sciences business has been our fastest-growing area of business since 2019. It's really nice to be recognised for that again".
Both the Technical and Industrial Recruitment Company of the Year, as well as the Diversity and Inclusion Recruitment Company of the Year awards went to British recruitment firm Robert Walters. As Jorge Eiki Nakajima, director of the firm's Industry Division noted: "Obviously, this is thanks to the efforts of our consultants and managers that work very hard every day".
Rachna Ratra, a director at the firm, commented on the diversity and inclusion (D&I) efforts of the company: "Even though we've made some really good progress over the years, D&I for us is a never ending work in progress. We will continue to evolve and champion this cause for our industry".
Boyd & Moore Executive Search took home the award for the Best IT and Technology Recruitment Company, which was one of the most hotly con­tested categories, celebrating the successful work of those in the massive space that is techno­logy recruitment.
The award for the Best Workforce Solutions Recruitment Company of the Year went to Envision Co., Ltd. The gong is in recognition of recruiters who offer multifaceted talent solutions—otherwise known as recruitment process outsourcing.
Ryan Yasunari, president and chief executive officer of Envision, had a few words to say. "I'd like to thank all of our amazing employees here. None of this would have been possible without their relentless commitment and the exceptional results we deliver for clients. Also, I'd like to thank our trusted clients and business partners and, of course, the recruitment award judges.
The Executive Search Company of the Year went to Apex K.K. Keith Dickson, director at Apex K.K., said: "This is a great honour for everyone here at Apex. First of all, thank you very much to the whole team. We've been working really hard with all of our clients and candidates. So, thank you, everyone".
The Growth Company of the Year award went to Cornerstone Recruitment Japan. The recognition marks an impressive year of operations during the pandemic. Alex Zobol, co-founder and managing director of Cornerstone made a few comments.
"We started in an office with two people in the middle of a pandemic not too long ago. Now we're pushing 50 people, so I think that qualifies as pretty good growth. Watch this space. There is more to come but we're delighted to win the award. Thanks so much, everyone. See you next year in a bigger category".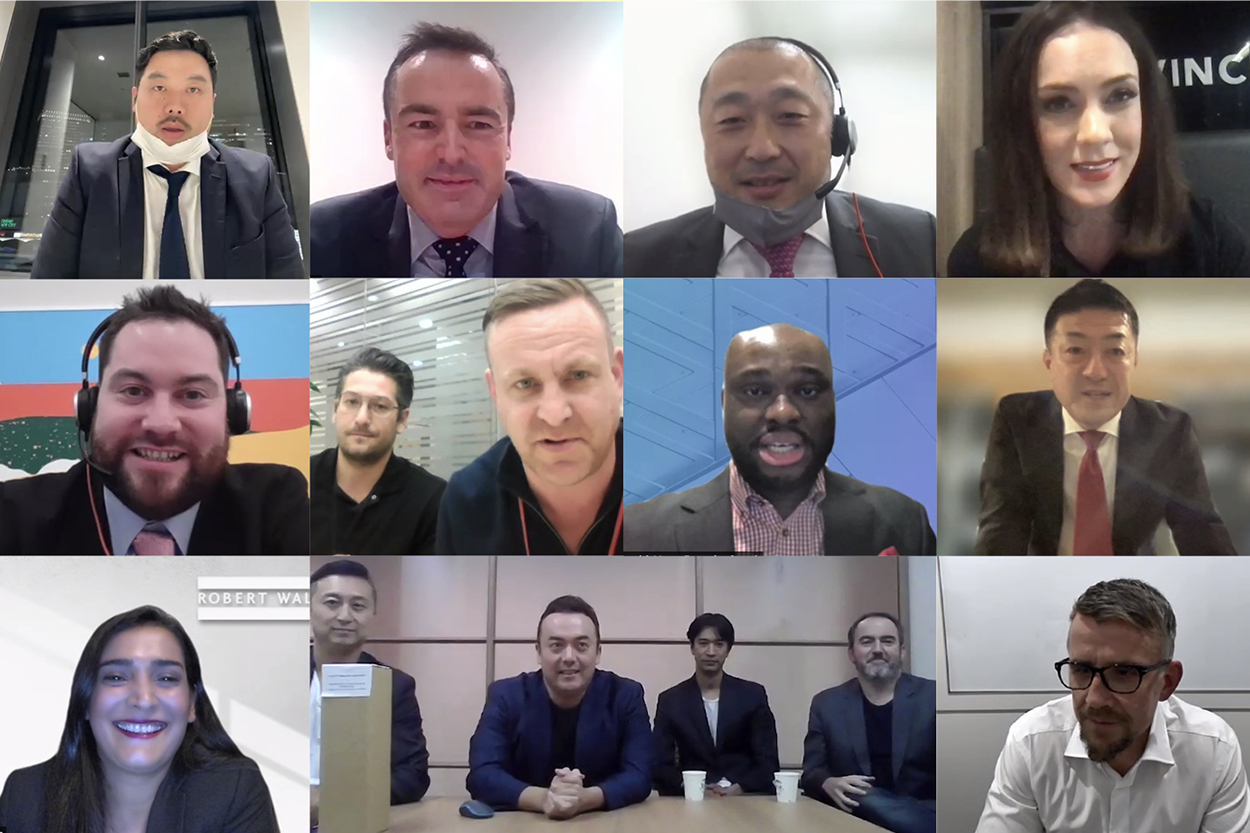 Vincere
Eloise Sutton-Kirkby, developer of growth and co-founder of the Robot Operating System plat­form Vincere, announced the winners for the highly antici­pated awards named after the platform.
The Vincere Best Small Recruitment Company to Work for award went to Evander Group K.K. "I want to thank the TIARAs team", said Will Hall, co-founder and managing director, "as well as our team, and I'm looking forward to seeing everyone in person next year".
The Vincere Best Large Recruitment Company to Work for award went to SThree K.K., with Reilly appearing on screen to accept this highly regarded award. "We're really grateful for even being considered for this one. Thanks to all of the team, of course".
Leader awards
A special mention and awards were also given to two outstanding individuals who have contributed greatly to their firms and the Japanese recruitment industry as a whole.
Leader of the Year went to Hayato Sato, senior director at i6TG. "Thank you so much", he said, "for this great honour. I would like to thank the judges, and I want to share my current happiness with our clients".
Outstanding Recruiter of the Year was awarded to Simon Elsom, director at RGF Professional.
"I'd like to start with Ben Cordier, the team, and everyone here at RGF Professional Recruitment for the nomination and an amazing 10 years. To be—to have been—a part of RGF's growth and everything we've achieved over the past 10 years has been truly amazing. Thank you to the Recruit Group, all of the team, and all of my team who work so hard every day and are so dedicated to what they do … It's a real honour to receive this award".