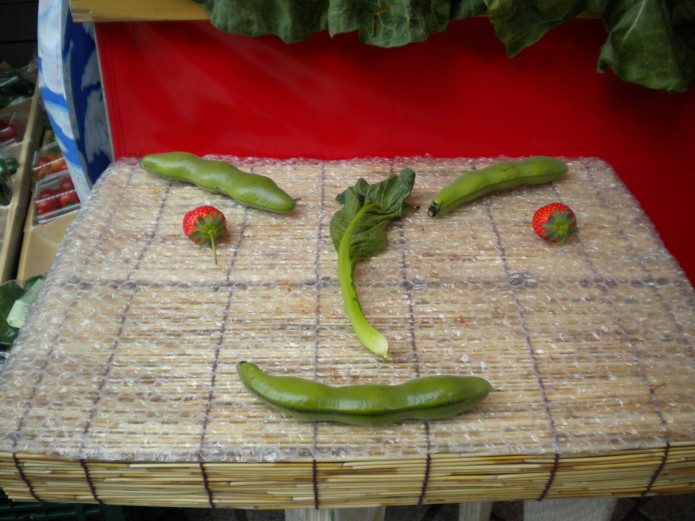 Why take the extra time to visit a farmers' market when supermarkets and convenience stores are on nearly every corner in Tokyo and food co-ops deliver right to your door?
The answer lies in the variety these markets offer in terms of location and atmosphere, as well as the produce and expertise found nowhere else in the city.
From Kichijoji's busy little market in western Tokyo to the United Nations University Farmers' Market in upmarket Aoyama, and Yoyogi Park's Earth Day Market, the capital's farmers' markets offer a year-round spectacle of food that is a feast for the eyes and taste buds.
Feeling sceptical?
Below are my top five reasons to attend one every week.
Find fresher food
Fruit and vegetables arrive at the farmers' market shortly after being harvested.
One of the biggest advantages farmers' markets have over supermarkets is that their produce is harvested the day before, or the same day, as the market.
Growers ensure that their best produce of the season is displayed at the markets for customers to drool over.
In my opinion, nothing is better than the flavour of freshly harvested komatsuna (Japanese mustard spinach) or aubergine.
Discover seasonal food
Seasonal eating means eating fruit and vegetables at their most succulent when flavour should be at its best. The easiest way to match produce to the calendar is to visit a farmers' market.
The blessing and curse of the supermarket is its ability to stock the same produce year round, with little emphasis on what is locally in season.
Feast your eyes on the warm glow that kaki (persimmons) cast over the market in autumn, while winter greens tantalise and tempt shoppers on brisk days. Bright red strawberries, deep brown chestnuts, apples of all colours and more ensure a year-long display that is as delicious to eat as it is stunning to look at.
Enjoy yourself
Tokyo's neighbourhoods overflow with fun places to visit and things to do—karaoke, restaurants, izakaya, parks and historic sites.
The 13 farmers' markets located around the city are similar to little festivals devoted to food and regularly offer live music, art shows, educational workshops and fun activities for children. Why not do your weekly shopping in an atmosphere full of sunshine and laughter?
Bring the whole family
Adults and children of all ages will find a world of wonder at a farmers' market.
Discover green tea seed pods and purple carrots; sample homemade udon noodles or purchase hatomugi, a type of barley, and learn something about the history of this traditional grain. Enjoy a tasty lunch of onigiri (rice balls) stuffed with duck, freshly grilled mochi (rice cakes) wrapped in nori (seaweed), or a spicy curry with a glass of juice made from the shiso herb.
Meet your maker
What is better than buying a fresh peach or a pot of pickled burdock? Meeting the person who tends the orchard or dreamt up the combination of herbs and spices to make the humble root delicious beyond belief, of course.
Ask questions, discover the orchard's history, or a recipe that's been popular for generations. Become a regular customer of the stall and start a beautiful (and delicious) relationship.
Whip your farmers' market purchases into something irresistible for friends and family with this skillet made from 100% recycled iron.
Reproducing the traditional ironware of Nambu (now Iwate Prefecture), the Naked Pan series promises extraordinary quality that will last 100 years.
Make sure you pass it on to the next generation, together with a cookbook or two!
Please e-mail info@ecotwaza.com quoting BCCJ ACUMEN for all information and orders, and to receive bonus points.