Learning from the latest military operations
Generations of executives have attempted to adapt the mindset of the battlefield to the business world, from developing a strategy to defeat corporate rivals to building camaraderie in an inhospitable environment.
Taking its cue from Britain's vaunted Royal Marines, McKinney Rogers claims to have taken the approach a crucial step forward and unlocked the secret to delivering practical results through its self-styled Mission Leadership methodology.
The British global business consultancy put its methods to the test at a recent workshop attended by more than a dozen people, including representatives from British Airways, Mandarin Oriental, Tokyo, Bayer Healthcare, Kreab Gavin Anderson, the British Chamber of Commerce in Japan and counterparts from academia and diplomacy.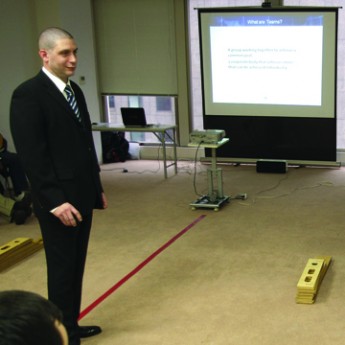 After a brief introduction, the participants were divided into three teams and each was given the same puzzle — grooved pieces of wood of varying lengths — and asked to complete it in as fast a time as possible.
It soon became clear that the exercise was less a test of logic than an attempt to nurture teamwork, communication and motivation, and convince even the sceptics that they could become, in McKinney Rogers' words, part of a "high-performing team".
"We very much believe that anyone can be part of a high performing team", said Ben Fouracre, senior account manager at McKinney Rogers in Tokyo. "Some people say that you can't change a company culture, but we try to refer to it as habit. We know habits can change. Once the habits change it becomes part of our DNA and that means it is a part of who we are".
The group exercise lent weight to the claim that with regular analysis, discussion and mentoring, habits do indeed change, teamwork overrides ego and, after an hour of tweaking, a task that initially took one team 8 minutes 30 seconds was completed in just 9 seconds.
Just when the participants thought it was safe to rest on their laurels, they were reorganised into two larger teams and asked to push towards a new target time, with the puzzles completed consecutively. A little over half a minute later we were all gazing with pride at two perfectly constructed puzzles.
In bringing together people from disparate industries and setting them to work with barely time for a quick self-introduction, the workshop's organisers hoped to drive home the message that, just as modern warfare little resembles the conflicts of 60 years ago, business has also become far more complex.
The inspiration behind the strategy is Damian McKinney, MBE, a former Royal Marine commando who founded McKinney Rogers in London a decade ago. The company, whose big-name clients include Wal-Mart and Pfizer, now has offices in 13 countries, including the US, Malaysia and Japan.
"In military mission command, you go through a couple of years' training and are then sent to the frontline to make life or death decisions", says Fouracre. "There is no time to bond, you might be in an international peacekeeping force of different nationalities and religions, working alongside other organisations and individuals and faced with new, clever enemies with technology on their side.
"The top-down command structure of, say, World War II, doesn't work in those circumstances. We have to make quick decisions on the ground".
The plan, whether a night time raid or a marketing push, has to be clear for everyone to understand — one weak link and the team effort falters. As the methodology notes put it: move at the same pace as the fastest runner.
"The definition of a high-performing team is one that quickly achieves a shared goal and consistently exceeds expectations", Fouracre said. "We're not interested in individual performers, but in team performance. A normal team is constantly looking over its shoulder; but a high-performing one is always looking forward".
The relative ease with which the teams improved their puzzle completion times through repeated attempts and ad hoc problem solving confirmed another Mission Leadership maxim: don't tell, do.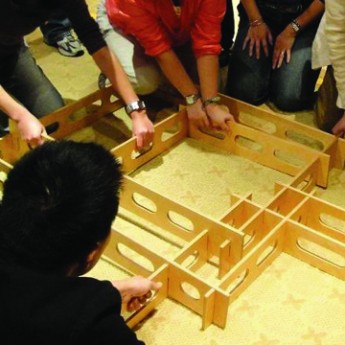 "I believe it is up to managers to take action and lead by example", said Mayumi Yoshitani, an account manager in the corporate sales section of British Airways. "Telling people what to do is too easy; it's much harder to actually show them".
Simon Wood, media and communication director at the British Embassy in Tokyo, said of the group exercise: "It was interesting to see how the simple things we got wrong were indicative of how teams fail in real-life situations, like not adapting our approach to the puzzle when new members came on board. I found it useful in that it reinforced the value of teamwork".
Lisa Chung, programme manager at the Kenichi Ohmae Graduate School of Business and a member of the fastest team, said she had managed to suppress her vocal side and "just listen".
"Everything we were told makes sense, but applying it to real work situations, with all of the additional pressures we didn't have to worry about today, will be the difficult part", she said. "But I'm very glad I came".