Unzen has long been a much-loved summer resort among foreigners; during the Meiji era (1868–1912), the area was developed especially for foreign guests. After the opening in the area of Japan's first public golf course, and the inauguration of a ferry service connecting Nagasaki and Shanghai, Unzen became a very popular destination. And in 1934, Unzen became the nation's first national park.
Western culture brought to Japan during this time played a key role in shaping its bunmei kaika—civilisation and enlightenment—movement, which influenced the style of the hotels built in that era. These, in turn, had a substantial impact on the Japanese lifestyle.
Classic hotels dating back to that time have passed down the ambience of the Meiji era and lately have been drawing increased domestic and overseas attention. To preserve and promote these hotels, the Japan Classic Hotel Association was formed. Guests at the hotels represented can pick up a "passport" to collect stamps from each hotel, with rewards available depending on how many stamps are collected.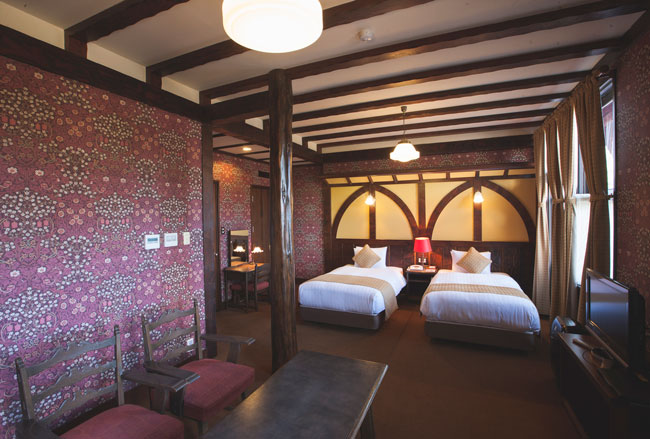 Among the nine hotels in the group (as of November 2017), the only one in Kyushu is the Unzen Kanko Hotel, which was built before World War II and is both a National Asset and Registered Tangible Cultural Property. With 83 years of history and a strong tradition, the hotel is passing on to future generations the classic spirit of the past. "Not just a place to stay, but a place to live" is the philosophy of this luxurious resort.
It is because of the hotel's strong sense of history that it was designated an important National Asset and Registered Tangible Cultural Property.
When guests arrive, staff greet them with a "Welcome back to Unzen!" The hotel wants them to feel that they have come back home; they are not at a hotel, but somewhere they can really relax.
Satoko Funahashi, the hotel's general manager, has drawn upon her experience in Europe to strengthen various aspects of the establishment.
"As I lived in Europe for a long time and am a graduate of a hotel school in Switzerland, I have built a strategic partnership with Switzerland", she said.
"The Swiss chalet-style building, and the landscape of Unzen have given our hotel a similarity with the mountainside resorts of Switzerland", Funahashi, who also studied tourism in the United States, added. "I have invited a jazz band from Switzerland for an event at the hotel and developed a new fusion cuisine from traditional Swiss food and local Unzen dishes.
"These 'East meets West' touches are all part of my 'back to the origin' brand strategy".
Philosophy and tradition
There are plenty of amenities to keep guests entertained during their stay, including a billiards room and a bar that has welcomed people from all over the world for 83 years.
There is also the hotel's stunning onsen (hot spring), where you can take a relaxing dip in classically styled surroundings. And the nearby bubbling, gaseous springs of Unzen Jigoku are a popular tourist attraction.
Meanwhile, epicures are well catered for at the hotel's restaurants. They can enjoy Unzen cuisine mixed with French cooking using locally grown seasonal products in the grand and spacious dining hall. Guests are encouraged to try the traditional beef curry. which pairs well with the reds on the wine list, and Gorgonzola baked cheesecake.
---