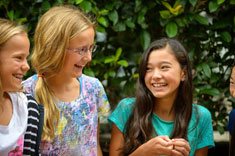 Yokohama International School (YIS) enjoys a reputation throughout Asia and the wider international school community as an institution with passionate and dedicated educators, driven to keep YIS at the forefront of international education while still maintaining our small-school feel and strong sense of community and culture.
Internationalism is at the heart of our school's culture, with nearly 50 countries represented amongst our students and faculty.
International Curriculum
YIS families are globally mobile. Our students come from and move on to schools all over the world, including other international schools as well as local schools under national education systems.
As an IB (International Baccalaureate) World School, our academic programme centres on three IB modules: the IB Primary Years Program, taught in our Early Learning Center and primary school; the IB Middle Years Program, taught in grades six to 10; and the IB Diploma Program, taught in grades 11 and 12.
Not only is IB the most respected and widely followed academic system in the international school community, but it has also been adopted by an increasing number of schools in the UK, US and other countries that aim to foster the communication skills, critical thinking and global perspectives young people will need to thrive in an increasingly interconnected world.
Academic Rigour, Balance and Innovation
At YIS we pride ourselves on offering a well-balanced education with opportunities for students to excel in many different areas. Academics are, of course, one priority.
The hard work and talents of our students are reflected in their achievements in external exams, as their marks are consistently above global averages.
In addition, our students enter leading universities in Europe, North America and around the world.
Innovative YIS programmes provide students with a host of distinctive opportunities. For example, they can learn about Japanese music, arts and culture through our International Center for Japanese Culture here on campus.
They can also seamlessly integrate information technology into their education through our "Connected Learning Community", take part in local and overseas community service programmes, and, for those in secondary school, seize the opportunity to complete the Global Citizenship Diploma (GCD).
Introduced in the 2011–12 school year, the GCD complements the academic rigour of the IB Diploma Program by recognising a student's whole education and accomplishments—learning that has taken place in the classroom, within the larger context of the school and in the world beyond.
Warm, Welcoming School Community
Something that is frequently highlighted, by families with children currently enrolled and visitors alike, is the close sense of community that exists at YIS.
A strong sense of care and belonging is also fostered by our active PTSA (Parent Teacher Student Association), which reflects our pride in the diversity of our community. This cultural mix is an important element of international school education, and the experience gained by everyone involved is much richer because of it.
Pleasant Atmosphere, Convenient Access to Tokyo
Located in the leafy historic Bluff district of Yokohama, YIS is well placed to take advantage of the pleasant environment that Yokohama provides.
It is also extremely convenient for families who choose to live in Tokyo—just over 30 minutes away by express train. A great number of our students commute from Tokyo every day, with the nearest station only a five-minute walk from our front gate.
Welcome to YIS
Choosing a school for your children involves many considerations, but ultimately it is about finding the right fit. We invite you to visit us and experience YIS first-hand.