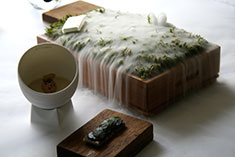 London and Paris tied as cities with the most highly rated restaurants, while Tokyo and New York were in second place, according to a recent survey in Elite Traveler.
Results from the "Elite 100 Restaurants 2014" showed London and Paris each have 16 of the best fine-dining venues, while Tokyo and New York each have six.
By country, France has the most restaurants ranked in the survey, while the UK and the US tied for second.
Topping the list was Alinea in Chicago, with Heston Blumenthal's UK-based The Fat Duck coming in third. London-born Blumenthal, a celebrity chef, also scored the readers' choice award for Chef of the Year.