The 6 August edition of Newsweek Japan included a nine-page special outlining the political changes in Britain. The report, perhaps understandably, devoted as much to Brexit as it did to UK Prime Minister Boris Johnson, also known as BoJo. The following introduces some key points made in three essays from the special, summarised from Japanese.
As the introduction to the Newsweek coverage pointed out, "Since his youth, Boris Johnson was known to be an arch enemy of the European Union". Come 31 October—if not sooner—what takes place in Britain may hold major repercussions not only for the economies of the UK, but also for the European Union (EU) and its trading partners. And that includes Japan.
To prepare for what is to come, it is important for Japan to understand Johnson. The special's lead story, by journalist William Underhill, purports to explain Britain's "charismatic" new prime minister as he attempts to navigate his nation into these unchartered waters.
Conviction or opportunity
"The citizens of the UK cannot trust the new resident of Number 10 Downing Street," asserts Underhill, pointing to the sense of scepticism that persists. Does Johnson himself truly believe that leaving the EU is the right thing to do? Or, is he merely an opportunist wafted along on the winds of popular sentiment?
Those who dislike Johnson are wont to think it's more likely the latter, and inclined to believe what BoJo really craves is power. But even those who like the man don't necessarily trust him. Max Hastings, Johnson's boss at The Daily Telegraph, has, on numerous occasions, despaired his "contempt for the truth".
Underhill nevertheless resists the urge to indulge in pessimism. Yes, he writes, the economy following Brexit may very well go through a rough patch. But after the passage of one year, perhaps, there's sufficient likelihood that the British economy will turn itself around and develop new markets. The reported affinity between Johnson and US President Donald Trump may smooth the forging of new trade arrangements between the two countries.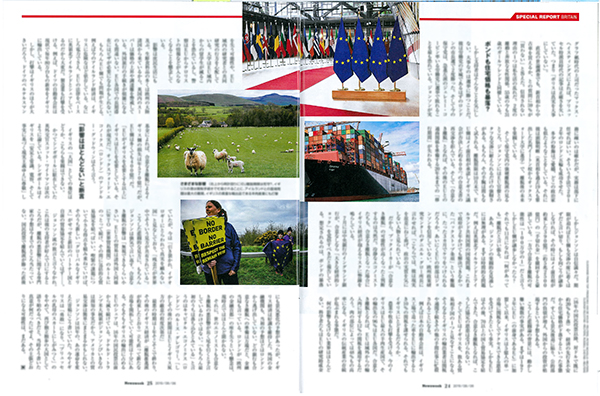 The Johnson Effect
Also in the special, in an essay entitled "The Johnson Effect," The Daily Telegraph's former Tokyo bureau chief Colin Joyce touches on the new prime minister's reputation as a poly­math, fluent in French and familiar with classical languages, which he pursued at the University of Oxford. As a journalist, Johnson has applied his broad range of interests to everything from ancient Rome to Winston Churchill to the automotive industry.
"To someone who's not British—and particu­larly those outside of the English-speaking sphere—it is difficult to explain Johnson's talents," Joyce writes. He clearly admires Johnson for his skills at turns of phrase, such as "inverted pyramid of piffle," and praises his remarkable ability to present complicated or mundane themes in ways that are both easy to comprehend and entertaining. An example is a 2003 column in which Johnson wrote that Parliament might "be properly matched—each House flawless in its own way". It is a solution he called "as beautiful as the two halves of the rear end of Kylie Minogue".
Politically incorrect
Likewise, Johnson's refusal to knuckle under to the political correctness that constrains most UK politicians—his oft-quoted observation of women wearing burkas as resembling "letterboxes" being an example—serves to convey an image of him as a flesh-and-blood person unafraid to say what's on his mind or to crack a joke. Yet, in contrast with Denmark and France, which have enacted laws banning Muslim attire, Johnson demonstrated his liberal streak, defending wearers in the UK.
The key to Johnson's appeal, writes Joyce, lies with his ability to get ordinary citizens involved in politics and voting on the issues. For that reason alone, he cannot be regarded as an ordinary politician.
Business impact
A third essay in Newsweek, by UK-based Japanese journalist Masato Kimura, is entitled "How Japanese firms will cope". Certainly, they shudder at the prospect of a no-deal Brexit, which they fear would paralyse corporate activities. Dire predictions include devaluation of the pound sterling and a drop of gross domestic product and wages by as much as 11%.
One out of two passenger cars manufactured in the UK carries a Japanese nameplate, and Honda and Nissan have already taken steps to cut back on production. A source at Toyota expressed anxiety at how his firm's environmental models—being dependent on EU regulations—may face reduced demand if 10% tariffs are applied. This would leave Britain "completely outside the mosquito net". In other words, excluded. Even native firms are taking pre-emptive action to soften the blow. Home appliance maker Dyson Ltd., for example, has moved its headquarters to Singapore and shifted manufacturing to Malaysia and other countries with lower labour costs compared with the UK.
Gathering storm
A Japanese person who had worked in finance in London is quoted in Kimura's piece as saying, "Considering the English language, securing human resources and its global reach, I once believed nothing could shake London from its superior position". But sensing the gathering storm clouds, he returned home to Japan and opened a restaurant. "When I converted the pounds I'd saved into Japanese yen, I was heartbroken".
Japanese firms continue to globalise and operate from various locations in Europe. While making adjust­ments in terms of their sales, operating costs and taxes, they are mulling strategies that will hope­fully absorb the shock of a no-deal Brexit.
In recent years, Japanese corporations have accounted for about 30% of direct investment in the UK—far more than the US. In the event of a no-deal Brexit, these firms can expect to suffer considerably.