Official photographer reveals rockers' true personas after 50 years of fame
Covered band's first Japan tour
Recruited for his distinctive style
Stones are "better than the Beatles"
Is anniversary tour just a rumour?
Offstage, Mick is far less of an extrovert, while Keith likes nothing more than to listen to the playback with the crew after a rehearsal. Charlie values his privacy and prefers not to be seen as a rock 'n' roll drummer, while Ronnie has exchanged Guinness for iced tea.
Together, they make up arguably the most successful, enduring and powerful live act in the history of rock music—The Rolling Stones. To mark the 50th anniversary of their first live gig at London's fabled Marquee Club, "The Rolling Stones at 50" photographic exhibition opened in July at the capital's Somerset House.
As the band's official photographer on their Japanese tours, Mikio Ariga considers himself very lucky to have got to know the four men who he now considers his friends—and heroes.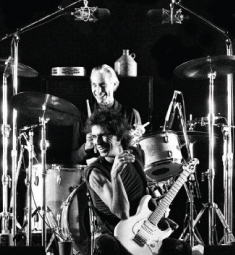 "Even when I was at university, I was interested in photography and the music industry together, but I was not talented enough to be a musician, and I never had the brains to be in management", 52-year-old Ariga told BCCJ ACUMEN. "And I like working for myself, so photography was perfect for me and, in the early 1980s, I set photographing the Stones as my target".
A fan for many years—"Gimme Shelter" is his all-time favourite Stones track—Ariga believes there are several reasons that so many Japanese music lovers prefer the Stones to The Beatles—the other British band celebrating its 50th anniversary this year.
"They are the perfect rock 'n' roll band", he said with a shrug. "They have this vocalist who is always jumping around the stage out front, the incredibly cool guitarist, they're constantly coming out with new and different stuff—and The Beatles couldn't do that.
"They're unique as a rock band, and lots of Japanese fans have this otaku-style love for them".
Ariga was first noticed by the band's management in 1989 during a news conference in New York. Impressed by his photos—the band and its press people believe Ariga's shots are distinctive from those of US and European photographers—he was invited to cover the Stones' first Japanese tour, in 1990.
Before their first performance on the Steel Wheels/Urban Jungle tour, Ariga captured the band as they practised.
"Keith has so much charisma that it comes out as an aura", he said. "He could walk into a bar and sit quietly in a corner, but immediately everyone would look around because he has that much presence.
"Charlie is very gentle and a rather strange fit with the rest of the band", he explained. "He doesn't want to be known as a rock 'n' roll drummer; he prefers jazz, and that makes him special".
Ronnie is "one of the nicest people I have ever met", while Mick "has a big personality" but is more business-minded offstage, with a very different private persona.
In 1990, the band played to full houses of 50,000 people at the Tokyo Dome for 10 consecutive nights, setting a record for the venue that was only bettered by Michael Jackson.
The Stones have since returned to Japan in 1995 for Voodoo Lounge, three years later for Bridges to Babylon, in 2003 for the Licks Tour and then, again three years later, for A Bigger Bang Tour.
Ariga documented all the performances and a number of his pictures appear in the 50th anniversary publication, The Rolling Stones Archives.
He has worked with several other big names from the music world, including Luna Sea, one of Japan's most internationally well-known bands, and Kazuya Yoshii, formerly of Japanese rock band The Yellow Monkey.
With increasing speculation that the Stones are planning a return to the stage either later this year or in 2013, to mark their golden anniversary, 69-year-old Mick indicated at the launch of the exhibition that another tour is on the cards.
"Yeah, definitely later on, later on this year, on stage", he told reporters. "And things are good, you know; 50 years, it seems an awfully long time, but it seems to have gone very, very quickly".
Ariga denies having any inside information on whether the Stones might be returning to Japan, but as both a photographer and a fan, he is looking forward to it.