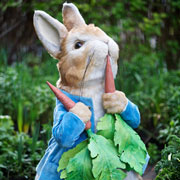 The chief executive of The World of Beatrix Potter, a tourist attraction in north-west England, recently came to Tokyo on a trade mission to boost tourism in the Lake District, media reported on 13 November.
Peter Rabbit has long been an object of fascination for people in Japan, and the Lake District establishment already receives a massive influx of Japanese tourists.
Staff members have described how these visitors quickly take in the displays and snap pictures of the characters, before descending on the shop, which seems to be their main focus.
The shop manager said Japanese groups are by far his best customers.