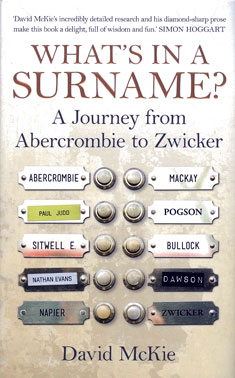 A Rose by Any Other Name
What's in a name?
This is a question pondered by Juliet, in Shakespeare's classic story of star-crossed lovers. Most people probably give little thought to where their names originate. David McKie, on the other hand, has spent a lot of time and effort exploring the fascinating world of surnames, at least those that are common in Britain.
His research is incredibly detailed, and there is apparently a great deal of information to investigate.
Unlike South Korea, where almost 50% of the population share just five names (Choi, Chong, Kim, Lee and Park), there are a staggering number of names on the British Isles, and McKie delves into their origins with great relish.
Some surnames are derived from people's occupations, for example the Smiths, Bakers or Taylors; some from the families' forebears, such as the Thompsons, Davidsons or Dysons; still others from the locations of individual births (the Trees, Hills or Bunkers).
By far the most amusing chapters of this delightful book are those in which the author contemplates whether a person's name influences his choice of occupation, or whether there is some magical influence that drives certain names to certain professions.
Is it coincidence, for example, that the fastest man on earth is named Bolt? A recent publication about the polar regions and the future of the planet Earth is authored by a certain Daniel Snowman. Richard Trench is credited as a co-author of a subterranean guide to what's under London.
The head of Danone Ltd. is said to be Bruno Fromage, and some people claim there is a legal partnership in Ireland named Argue and Phibbs. The most humorous example of all is an article on incontinence in the British Journal of Urology (vol 49, pp 173–176, 1977) by A.J. Splatt and D. Weedon.
McKie explores the changes that have taken place in the composition of British names over the centuries. Many have remained constant (and usually in specific parts of the country), but we may feel relieved that certain names have disappeared.
Who, after all, would like to be named Swetinbedde or even Gyldenbollockes? Perhaps the latter was a nod towards a future soccer great.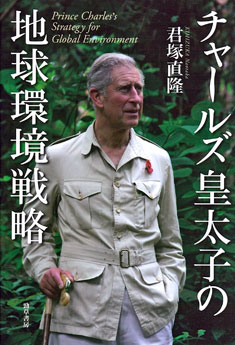 Prince Charles: Environmental Warrior
Charles Phillip Arthur George has been a prince for more than 50 years, yet many of his social contributions are barely known.
The Prince of Wales has long been a champion of the environment. However, the fact that he recognised the looming threat of climate change decades before others has been mostly overshadowed by the royal activities of Queen Elizabeth II.
The book offers a detailed summary of relevant historical events along with an overview of Charles' activities to date while serving as a royal heir.
The prince's solutions to the Earth's problems are outlined thereafter. What is interesting is that, despite his regal position, he attacks these issues from the view of an ordinary citizen, while demonstrating a deep understanding of British culture and history.
For instance, he asks, "Can you imagine what would happen if the famous salmon that dwell in rivers in Wales disappeared?"
Charles espoused several sustainable development projects. A number of celebrities, politicians and organisations have supported his efforts, including Sir Richard Branson. Charles' approach to today's climate challenges centres on seeking long-term solutions to problems rather than quick fixes.
Nowadays, his activities have become more global than ever. To drive home the severity of global warming and the need for each nation to accept responsibility, Charles has flown around the world for meetings and conferences, giving speeches and helping work towards solutions alongside national bureaucrats.
As of this book's publication date, Charles had visited 389 countries.
From the late 1960s through the early 1970s, Charles' environmental interests were seen as strange. However, the world has undergone great change over the past 20 years. The author maintains that Charles was ahead of his time when he organised environmental forums and tried to educate people on pressing issues.
If he encountered an unfamiliar situation he would consult experts on the topic. At times, this would even include indigenous tribes. He joined conferences across the world, to gain information and support, and to make connections.
Perhaps what most stands out for readers is the level of detail that the author has achieved. He collected facts for the book by interviewing persons close to the royal family. He clearly is well informed about UK history and present circumstances.
This book provides a peek into what Prince Charles' reign would look like were he to be king.