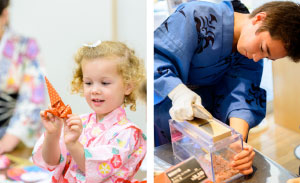 Enjoy summer to the fullest in Nihonbashi. July marked the kickoff of ECO EDO Nihonbashi 2016, an opportunity to experience omotenashi (spirit of hospitality) and travel back to a time when Tokyo and nature were intertwined.
To celebrate the first week of the event, Mitsui Fudosan Co., Ltd. invited seven families to explore the COREDO Muromachi Nihonbashi area and its rich connection to Japanese culture.
To begin the tour, guests selected yukata (light kimono worn during hot months) and learned the traditional way to dress for the summer. This change of clothing swept them away to a cooler place, and set the stage for their visit to the watery world of Art Aquarium.
An immersive spectacle of light and sound, Art Aquarium brings the Japanese love of goldfish to life. In days of old, Japanese believed that simply viewing them had a cooling effect on the body, making it a way to ease the burden of the summer heat.
"I thought it was beautiful and that it was very amazing how they could put fish into beautiful tanks and create art out of it", said one guest, aged 10.
Guests also visited the Fukutoku Shrine, which dates back to the Jogan Era (859–876). It was rebuilt in 2014 by Mitsui Fudosan as part of the Nihonbashi Revitalization Plan.
The tour then continued at the Hakuza Nihonbashi shop, where guests learned about gold leaf, and at Ninben, where children tried their hand at shaving dried bonito to make kezuribushi, the flakes that form the basis for many Japanese soups.
These flakes were tasted by everyone, to great acclaim: "I think it's a very nice flavour—a very refined one".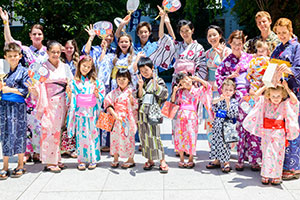 After the culinary adventure, guests traded the soothing yukata for their clothes and returned to the world of modern Tokyo. "It was an absolutely amazing exhibition", said one adult guest.
If you would like to dive into tradition this summer, the refreshing experience of Eco Edo Nihonbashi 2016 will be running until 25 September.
Those wearing yukata or showing a ticket stub from Art Aquarium can receive special bonuses, such as free drinks and summer gifts. To find participating shops, follow the relaxing sound of the goldfish wind chimes.
The Nihonbashi Summer Experience package includes yukata dressing, goldfish-themed treats, priority admission to Art Aquarium, and a gourmet tour of 10 shops in the COREDO Muromachi complex.
The experience starts at 10am and is available on Saturdays and Sundays on 23 July–28 August. The cost is ¥10,800 per person for those aged 13 and over and ¥8,100 for children aged 4–12.
It is free for children aged three and under.
www.facebook.com/nihonbashi.information
www.nihonbashi-info.jp/omotenashi
www.artaquarium.jp/en