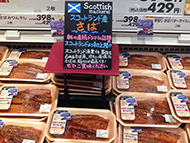 Japan's largest supermarket chain is promoting Scottish mackerel, with two products localised for the market, The Grocer reported on 31 October.
Mackerel in butter oil and mirinboshi (fish seasoned with sweet rice wine and dried in the sun) were rolled out following a launch with bagpipes and sampling events at 80 Aeon Co., Ltd. stores.
Brokered by trade body Scottish Development International to support global sales of the products, the development builds on the activity of Scottish producers in the country, including a presence at the Japanese International Seafood & Technology Expo in August.