Britons take silver and bronze in Nagasaki
British designers performed well at the Gardening World Cup in October, staged at the Huis Ten Bosch park, near Nagasaki, but were unable to repeat the victory of England's Andy Sturgeon Best in Show in last year's inaugural event.
The organisers of the Japan World Cup, aiming to put the event on a par with the Chelsea Flower Show in terms of prestige and scale, had invited 16 contestants from 12 countries to participate.


The designers were initially given the theme of peace for their gardens, appropriate given the venue's proximity to Nagasaki, but "a prayer for Japanese recovery" was added to their brief following the natural disaster that struck the north-east of the country on 11 March.
The Gardening World Cup may only be in its second year, but it is already turning heads in the global horticultural community, Sturgeon agreed.
Winner of the top prize here last year for his Reaching Out garden, Sturgeon was a judge this time. "I think the standard of gardens is very good this year, but it is difficult to compare this to Chelsea", he said. "There, the gardens are bigger, are sponsored and more money is involved, but if you consider what they have achieved here this year, then the standard is very high.
"I believe the show here has great potential, but it would probably be wrong to say that it could become the same as Chelsea because the two events are so very different", he said. "If you look at the global map of gardening shows, however, then the Gardening World Cup is already on the map".
Hampshire-based Sarah Eberle won a silver medal. "I started with a broad concept but it has been one of those things that evolves", said Eberle. "I did a design, put it away for six weeks and then brought it out again to tweak it.
"One of the things that I was most worried about was that I had never been to Japan and I was going to have to think on my feet even more than I usually have to", she said. "And it was the same with the plant material; those were just some of the challenges".
Eberle said she did not want to be too "direct" about the main theme of the garden, so she tried to get across a sense of inner peace through gardening and the idea that gardening can bring about peace.
The garden replicates a woodland stream that trickles into a lake and down through meadows and field. It also features Japanese influences—the use of a pauper stone and Japanese-style river stones—but also has very English elements, such as walls that are reminiscent of a countryside folly, she said.
"Despite the surface differences in gardening styles, underneath a lot are the same", said Eberle. "I want people to enjoy the garden and take out of it what they like and I really do believe that gardening can make people nicer".
Jo Thompson – the other silver medal winner – from Kent, was asked to represent Italy where her father was born. She said the show had been "a steep learning curve" and completely different to other events in which she has taken part.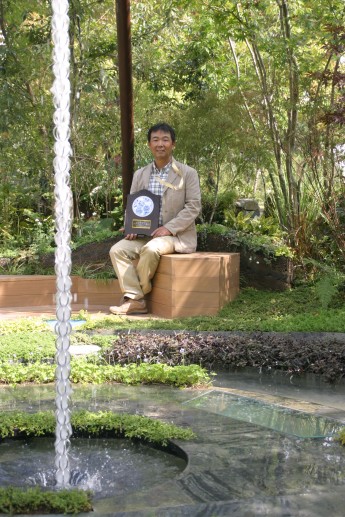 "The contractors laughed at me when I said I wanted to use grasses because grass is considered a weed here", she said. "But I just love 'kiss-me-over-the-garden-gate' and it fits in so well here that I've used it a lot".
Thompson's Reconnection Garden included a circular pool with a pulse that created ripples that were illuminated at night and framed by olive trees to suggest a secluded grove.
Trying to prepare for the event from thousands of kilometres away was a challenge, as was the contractor's method of pulling up plants that they considered suitable for the garden, meaning they were in less-than-perfect condition by the time the event came around. Other competitors expressed similar reservations and it was suggested that the next event would benefit from having a horticultural advisor on hand for the contractors to consult.
On the other hand, all the contestants had only praise for the attention to detail that their Japanese contractors displayed.
"Things are built to last here and they don't have the concept of building just for a show", said Thompson. "The craftsmanship is just amazing and the attention to detail is incredible.
"Three days into my build, they were worried that the level of the garden had dropped on one side and they wanted to start again—but the difference was only 5mm", she said. "The curve on one of the benches was 10mm out and they wanted to do it again. The contractor told me he couldn't sleep that night for worrying.
"Their attention to detail is just amazing and if I was not happy, they took it very, very personally", she added. "And they would never say no to any of my requests for a change".
The hopes of Show Garden bronze winner Jonathan Denby, of Grange-over-Sands in Cumbria, were almost dashed by a rogue snail that had infiltrated the container of components destined for his Beatrix Potter-themed garden, as reported in the October issue of ACUMEN.
Japanese customs refused to permit the shipment to be unloaded before it was thoroughly cleansed, meaning that a Georgian water pump—identical to the one at Beatrix Potter's former home at Hill Top—old tools, a garden gate, wooden wheelbarrow, beehive and an Edwardian post box did not arrive until after the gardens had been judged.
A larger-than-life statue of Peter Rabbit and Mr McGregor arrived in Denby's suitcase, however, and the garden was clearly very popular with Japanese visitors on the gala reception evening.
GALLERY