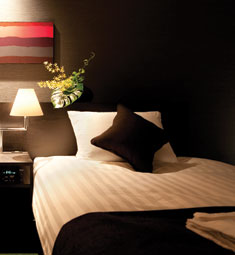 Anniversaries are usually a time of reminiscing and looking back. But Keisuke Uno, general manager of the Gate Hotel Kaminarimon, wants the first anniversary of his hotel to be a time to look forward.
Located in Tokyo's culturally vibrant Asakusa district, the young hotel that is run by the HULIC hotel management firm, boasts a contemporary design and some ambitious programmes and plans to mark it's first anniversary.
The hotel is expanding its offering of tourist-related information and reintroducing some Japanese traditions.
"We're now thinking about various ways of giving our guests the chance to experience Japanese customs", Uno said.
For example, otsuki-mi (moon viewing in autumn) from the outdoor terraces of the hotel, and placing yuzu (a small citrus fruit) in baths–a winter solstice custom–are two traditions that the general manager would like to see recreated.
"Non-Japanese may not be aware of these customs, and some Japanese have forgotten about them. So we would like people to have the chance to experience them", he explained.
As for the first anniversary on 10 August, Uno explained: "We won't have one big event but, rather, many smaller ones". This includes a package that runs throughout August.
Accommodation in one of the hotel's balcony suites is part of the deal, but that's not all.
Other features include a 24-hour stay from check-in time, free breakfast, dinner and unlimited food at the restaurant, a guided tour around Asakusa, a bag of gifts representative of the district, and a 30-minute ride in one of the jinrikisha (man-powered cabs) that famously ply the district.
The cost for the package is a flat ¥100,000, all inclusive and for two people. "You might think ¥100,000 is a bit high, but it works out to ¥50,000 per person, and all the benefits are quite amazing when you think about it", he added.
But if you happen to be in search of really low prices, then check out the hotel's R: Restaurant & Bar from 1 to 10 August. A glass of celebratory champagne can be had for ¥810. The digits of the price symbolise the hotel's anniversary date (10 August).
On offer at the same price is a special thank-you menu, comprising a plate of various meats, including beef braised in wine, duck confit and grilled pork.
When it comes to future plans, Uno and his staff have plenty on their proverbial plates. Perhaps the most ambitious involves expanding the hotel's range of concierge services to cover several languages.
The word concierge means a hotel employee who provides information and special services to guests. But in the context here, the term refers to the hotel's travel-related information services.
The hotel's website already provides some information about the Asakusa district, and the hotel boasts an in-house travel guide available in English, Chinese and Korean.
However, Uno would like these activities expanded "so that the information becomes deeper and broader", encompassing the website, Facebook and regular email newsletters.
"Even if people are not staying [at the Gate Hotel] as guests, they could use this information".
Yet the human element is not absent in the concierge approach. In fact, the hotel prides itself on having not just one concierge, but a whole army of them.
"All Gate Hotel employees need to be like concierges in their work", he said, adding that they regularly provide travel and entertainment-related advice to guests.
As the hotel's literature states: "Our skilled staff have been trained as Asakusa Concierges and have compiled an in-house guide to restaurants, bars and businesses, as well as other places of interest in the area".
In what must be one of the job's most enviable duties, staff members are regularly sent out on assignment to build up their knowledge, sampling the local food and other offerings.
"If you don't experience it yourself, then you won't know", he added. "They write out and record the flavours, the prices, and so on. So everyone has the function of a concierge".
And, since the hotel is located in one of Tokyo's most historically and culturally important districts, the staff have plenty of material to work with.
————————————————————————————————————————————————————
The first thing that strikes visitors to the Gate Hotel when they enter the lobby is the view. Asakusa is spread out at their feet, thanks to 3.6-metre ceiling-to-floor windows that encircle much of the lobby.
When looking down from the 14-storey height, the most conspicuous feature is Sensoji, Tokyo's oldest temple and a must-see for any visitor to Tokyo.
Even for a temple steeped in tradition, Sensoji is an attention-grabber.
At its entrance is Kaminarimon, or Thunder Gate, from which hangs an enormous red paper lantern. Beyond the gate runs a shopping arcade-like thoroughfare, lined with shops selling traditional wares, that leads to the temple's inner complex.
Look up from the temple, and you will see Tokyo Skytree, the world's second-tallest structure that opened last year.
Thus, within a few blocks of the hotel, there sit two of the metropolis's top attractions—one representing the past, the other its future—and both within easy walking distance.
It's hard to imagine a better location for tourists who want to fully experience Japan's capital city. What's more, the hotel's spectacular views don't end with the lobby: the Gate's restaurant and bars are positioned and laid out to take full advantage of the vistas, from indoors through walls of glass or from terraces that reveal Tokyo's skyline from several different angles.
"We see Asakusa as being like one of our hotel's facilities", Keisuke Uno, general manager of the Gate Hotel Kaminarimon explained. "As concierges, we encourage our guests to go out and experience it as well".
This especially includes the food. "We say 'have breakfast here, but for dinner, please go out and enjoy the experience'".
In this respect, the policy of the Gate is a departure from that of traditional Japanese hotels, where revenue mainly comes from operations not related to guest rooms, namely, restaurants and events held at the hotel.
"The typical revenue breakdown [for traditional hotels] is 30% rooms, and 30% restaurants and banquets", Uno explained. "But for the Gate, the ratio is 70% rooms and 30% restaurants".
That's not to say that the Gate's restaurant plays a subordinate role—not by a long shot. The Tokyo Timeout website is one of the many fans of the R: Restaurant & Bar and its French bistro-style menu.
"It's taken a surprisingly long time for word to spread about the 13th-floor restaurant at Asakusa's Gate Hotel Kaminarimon—maybe because everybody who's been [to the restaurant] so far was hoping to keep the place to themselves", noted a Timeout reviewer, apparently aware that the restaurant is only one year old.
Since the hotel's inception, about three quarters of its guests have been Japanese. Uno is now starting to notice a slight rise in the ratio of non-Japanese, a trend he attributes to the decline of the yen against other major currencies, thus making travel in Japan more affordable.
The shift, which he views as being long term, is one of the many factors behind the plan to expand the hotel's output of foreign-language materials.
With Japan's economy now picking up and the country increasingly becoming an international tourist destination, it is definitely worth popping a champagne cork for the Gate Hotel Kaminarimon's outlook.