Special message from Tim Hitchens, British ambassador to Japan
I am delighted to send a message to the readers of BCCJ ACUMEN on the occasion of Her Majesty The Queen's 88th birthday—known as beiju in Japanese and considered a particularly lucky anniversary.
Every year, we receive many kind messages from all over Japan that show the great warmth and affection in which the Japanese people hold the British Royal Family, be they Her Majesty, or baby Prince George. This sentiment reflects the deep and abiding relationship between the UK and Japan.
Because the bilateral ties go back so far and are so deep, there are few years without some significant milestone. Last year marked 400 years since the beginning of formal and trading relations.
A letter from Tokugawa Ieyasu to King James I of England and VI of Scotland, giving permission for British people to live and trade in Japan, can be found at the Bodleian Library in Oxford.
But this is a partnership for the twenty-first century, not the seventeenth. The ties between the UK and Japan are stronger—and our priorities more closely aligned—than they have been for many years.
These priorities rest on the joint values and principles laid out by our prime ministers in London last month: the rule of law, the settlement of disputes by negotiation, transparency, human rights and global responsibility.
Those are the serious aspects of our partnership. In keeping with a birthday theme, there are shared pleasures, too. One aspect of modern British life remains relatively unknown in Japan—the dramatic changes that have been taking place over the last decade in the world of British food and drink.
A growing wave of interest among UK consumers in the food and drink they eat, cook and buy has led to the formation of a burgeoning industry that prides itself on quality products, served as part of an experience to be savoured.
The UK is now home to more than 150 Michelin-starred restaurants, overseen by a new breed of British chefs—whose recipes are served around the world—and a new generation of gastropubs serving affordable, yet quality food and drink.
Market research has revealed that many Japanese consumers have no clear image in their minds of what British food and drink really entails. Many more have not tried it themselves—instead relying on outdated assumptions from the 1970s.
So, we have teamed up with partners from the private sector to introduce contemporary British food and drink to Japan.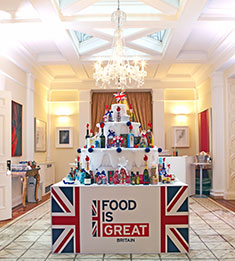 The "Food is GREAT: A Taste of Britain" campaign started last year, and has been encouraging food enthusiasts to try top, modern British recipes. It aims to forge the business links that will make more British food and drink products available on the shelves and tables of Japanese supermarkets and restaurants.
But the campaign is also about getting more Japanese to travel to the different parts of the United Kingdom to enjoy the real British food experience for themselves.
The Queen's birthday party celebrations in Japan this year showcased the gastronomic delights of modern Britain.
Even if you were not at the embassy event in Tokyo, we want everyone across Japan still to be able to enjoy this opportunity.
From 1 July to 31 August, the ABC Cooking Studio in Tokyo Midtown will be running a special cooking class using the Queen's birthday party menu.
In addition, we are proud to announce that Rakuten Ichiba has launched a dedicated page where you not only can find special Queen's birthday party menu recipes, but also purchase the leading British products and ingredients right here in Japan.
Don't forget that more of the recipes featured in the "Food is GREAT: A Taste of Britain" campaign are available on a special "Embassy's Kitchen" page on cookpad.com.
So please, raise a glass (perhaps of award-winning English sparkling wine!) and join me, in celebrating Her Majesty's 88th birthday and the enduring ties between the UK and Japan.
Long may she reign, and may the rain fall elsewhere during our celebration.