According to an acne-perception study by prominent US psychiatrist Dr Eva Ritvo, teenagers and adults have a negative perception of teens with acne, seeing them as generally shy, less socially active, more likely to be bullied, and less successful at finding a job.
A study in Japan found similar results, with some acne sufferers admitting that acne makes them feel ashamed, less self-confident and reluctant to go on dates. One in 50 teenagers have even experienced getting bullied because of their acne.
Leading dermatologists overseas and here have identified physical and emotional scarring as two grave consequences of the medical condition.
Although they recommend early intervention to prevent such scarring, the dermatologist consultation rate in Japan is low: about 80% of acne suffers opt for over-the-counter drugs, cosmetics or other methods of caring for acne.
Galderma KK, a subsidiary of the international dermatology firm Galderma, in partnership with dermatologists has been conducting an awareness campaign here since 2010. It has included TV commercials and road shows designed to help acne sufferers understand the disease and visit dermatologists. A new campaign kicked off this month. Galderma KK's ambition is to have all acne sufferers consult dermatologists at a very early stage to be properly treated.
About Galderma
Galderma, a global pharmaceutical company founded in 1981 as a joint venture between Nestlé and L'Oréal, exclusively focuses on dermatology. It has 31 wholly owned affiliates, a worldwide network of distributors and 4,000 employees. Galderma's extensive product portfolio is available in 70 countries and is used to treat a range of dermatological conditions including: acne, rosacea, onychomycosis, psoriasis and steroid-responsive dermatoses, pigmentary disorders and skin cancer. It also provides medical solutions for skin senescence (ageing).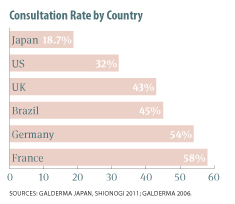 Galderma meets patient and dermatologists' needs with its broad range of therapeutic and aesthetic products. It has three business units that handle three broad product divisions, namely prescription, over-the-counter (medical and therapeutic skincare), as well as aesthetic and corrective items.
In 2011, Galderma acquired Sweden-based medical device maker Q-Med, which specialised in aesthetics, thereby strengthening Galderma's place in the aesthetic and corrective dermatology market.
With about 19% of revenues invested annually in product discovery and development, and its access to innovative technologies, the firm is a leading investor in dermatology R&D. Four state-of-the-art R&D centres—of which Sophia Antipolis in France is one of the world's largest dermatology-related sites—and four manufacturing sites are dedicated to providing a wide range of innovative medical solutions that meet the highest standards of safety and efficacy.
About Galderma KK
Galderma Japan, founded as a wholly owned affiliate in 1996, focuses on clinical development and regulatory activities specifically for the Japanese market, and has nearly 80 employees, including 40 medical representatives covering dermatologists nationwide. With a topical acne treatment and a topical anti-fungal agent already on the market, the firm plans to expand its skincare portfolio here.