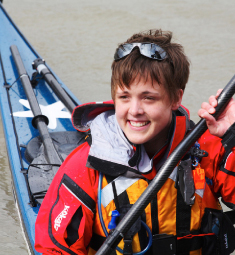 Solo adventurer Sarah Outen, 26, has set off from Britain on a two-and-a-half-year journey—via Japan—to kayak, cycle and row around the globe, protected by one of the most complex Lloyd's of London insurance policies drawn up in 25 years, the London Press Service reported on 21 June.
The expedition—called "London to London via the World"—gave underwriters the unusual task of valuing a person enduring a physical and mental battle for an exceptional length of time.
"Sarah has presented one of the most challenging underwriting propositions of any person to whom we have given a quote for personal accident and medical expenses coverage in the last quarter of a century", the firm said.
Outen will bicycle through Europe, Russia, Kazakhstan, China and back into Russia to kayak to Japan before rowing across the North Pacific and cycling from Vancouver to New York, then rowing to London.