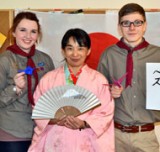 Two high school students are planning a 10-day, 160km hike through rural Japan in August, Cambridge News reported on 20 January.
Beth Elwood and Josh Robinson, both 16, will travel with a Birmingham scout group to Japan. They will walk in small groups through local villages, completing projects along the way.
The pair will be aiming to earn their Explorer Belt and asking people they meet during the hike if they can share their food and accommodation.