The effective job-opening-to-applicant ratio released by the Ministry of Health, Labour and Welfare on 29 July was 1.37, a rise of 0.01 when compared to the previous month. The average ratio for the period from April to June was 1.36.
n April, the effective job-opening-to-applicant ratio by actual place of work of the employee exceeded 1.0 for all prefectures for the first time since the calculation of the job-opening-to-application ratio commenced.
With tight labour conditions—amid a continuing labour shortage in Q2 of 2016—demand was prominent in industries such as accommodation, food and beverage services (18.0% increase), construction (7.4% increase) and medical and welfare (7.3% increase).
Firms that encountered difficulties in hiring fresh graduates have made the shift toward recruiting currently unemployed recent graduates with work experience, as well as experienced mid- to senior-level recruits. This shift is believed to have helped spur demand for human resources in the job-movers' market.
Sector focus
The effective job-opening-to-applicant ratio for permanent positions has also continued to rise (0.88), and demand for human resources for jobs in professional and technical occupations in particular is a growing trend.
Among the job categories, there is also increasing demand for professional and technical positions including engineers in construction, civil projects or surveying (a ratio of 3.96), and information processing or communications (2.29).
IT specialists are required across a broad spectrum of industries. Personnel requests received by Robert Walters Japan reflect growing demand for experienced security and data specialists, as well as web engineers and digital marketing personnel.
The effective job-opening-to-applicant ratio has also remained high for sales jobs. The service sector is experiencing a continued labour shortage for jobs such as hospitality and waiting staff (3.43).
While orders have continued to pour in from the construction industry based on demand related to the hosting of the Tokyo 2020 Olympic and Paralympic Games, there is an increasing labour shortage. The job-opening-to-applicant ratio remains high across all job categories in the construction and mining sectors, including construction work for building frames (6.85).
Meanwhile, overall demand has remained low for administrative jobs such as general administration (0.28) and accounting-related administration (0.63). This is because demand for such personnel is on the decline amid the growing trend of substituting human labour with machinery and systems for monotonous and simple tasks.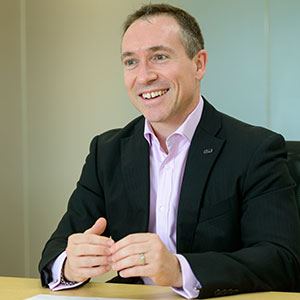 David Swan, managing director of Robert Walters Japan and Korea
"Despite concerns for the impact of the withdrawal of the United Kingdom from the European Union and market sentiment toward further yen appreciation among other issues, the job market is expected to continue booming on the back of positive factors such as Olympics-related demand and the increase in the number of foreign tourists coming to Japan.
"Demand for bilingual professionals with specific skills is also continuing to increase regardless of the industry or job category, making it even more difficult for corporations to secure this kind of talent.
"While job-opening-to-applicant ratio is on the rise in the professional and technical sectors, the low ratio for all administrative jobs including general administration, which is a high volume zone, stands out, marking a growing mismatch in the job market.
"However, even for workers in such sectors, enquiries have continued to pour in for bilingual professionals who are proficient in both Japanese and a foreign language, such as English. The number of job openings exceeds the number of applicants in this aspect, demonstrating a market that favours job-seekers".