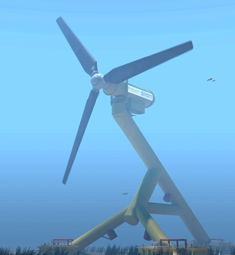 Scots help post-quake Japan exploit power of the oceans
• North of border tops world in wave energy
• Tokyo asks Edinburgh for technology help
• Scots trade mission targets Japan this year
• Strong support from UK, Scots govts
In a series of sea lochs and inlets on the western coast of Orkney, northern Scotland, there is movement in the water.
Contrasting sharply with the grey of the Atlantic, a series of five red and yellow tubular sections move in the ocean's constant swell. Each time the connected sections rise or sink with a wave, the energy of the breaker is transformed into electricity.
The brainchild of Edinburgh-based Pelamis Wave Power Ltd., the ingenious device is just one of the wave and tidal energy systems that are being tested in the waters around the Orkneys, under the aegis of the European Marine Energy Centre (EMEC).
Since it was first set up in 2003, EMEC has developed such a reputation that the Japanese government is planning to use it as a blueprint for its own marine energy research facility.
In March 2012, the centre signed a memorandum of understanding with the Ocean Energy Association of Japan to provide advice and support regarding the design, setting up and operation of the Japanese facility. It has attracted new enthusiasm in the aftermath of the disaster at the Fukushima Daiichi Nuclear Power Plant in March 2011.
No final decision has been reached on where the Japanese version of EMEC will be constructed, although the shortlist includes Sendai, Miyagi Prefecture—among the areas hardest hit by the 2011 Tohoku earthquake and tsunami. Another region that might host the research facility is Nagasaki Prefecture.
Announcing the deal, Scotland's Cabinet Secretary for Finance, Employment and Sustainable Growth John Swinney said: "Scotland is blessed with some of the world's greatest green energy resources offshore.
"Through EMEC's unrivalled expertise and the critical mass of companies now developing wave and tidal technologies in Scotland, we are leading international efforts to harness the unbridled energy of the seas to deliver safe, secure and sustainable energy and help protect the planet for future generations".
"This new partnership between Scotland and one of the world's great industrial powerhouses is very welcome, given our shared heritage for innovation and engineering", Swinney added.
"Just as 'the father of Japanese lighthouses', Richard Henry Brunton, helped Japan build a network of lighthouses in the late 19th century to protect sailors from the perils of the sea, our two nations are now working together to harness those very same forces of nature to generate clean energy".
To further cement the links between wave and tidal energy research facilities and firms, a trade mission of Scottish firms is scheduled to visit Japan this year.
According to Scottish Development International (SDI), Scotland has a long history of academic research into ways of utilising the nation's impressive wave and tidal resources, with studies by Professor Stephen Salter at the University of Edinburgh having broken new ground in the 1970s. Today, the university's Institute for Energy Systems is also at the forefront of research into marine power technology.
"The Scottish government has set world-leading targets for the development of renewable energy, including [sourcing] 100% of Scotland's electricity consumption from renewables by 2020", Anne MacColl, chief executive officer of SDI, told BCCJ ACUMEN.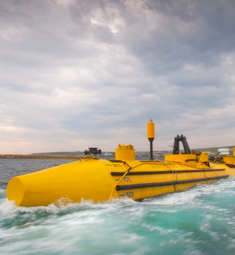 "This is driving innovation and entrepreneurship across a number of renewable energy technologies, including wave and tidal energy", MacColl said. "The Scottish government wants Scotland to be the first country to successfully deploy a wave or tidal energy farm".
The Intergovernmental Panel on Climate Change has estimated the world market size for wave energy at 8,000–80,000TWh per year. The top end of this estimate is five times the current global energy consumption.
In the UK, the technically and economically recoverable resource has been estimated to be 50–90TWh of electricity per year, or 14–26% of current UK demand.
Given that Scotland accounts for 25% of Europe's tidal-energy and 10% of its wave-energy resources, the potential is vast.
With funding in place, the next step will be to move from research and development to commercialisation of this renewable energy source.
Pelamis was established in 1998, when a support mechanism was set up by the British government to help promote marine renewables.
"At that point, I recognised that this support could be the opportunity to prove that wave power is more than just a good idea and had the potential to be a commercially viable method of generating electricity", Richard Yemm, founder of the firm and inventor of the Pelamis design, told ACUMEN.
"Through the work completed over the past 15 years, we are confident that the Pelamis system is the best and most advanced wave energy technology in development", Yemm said. His firm is focused on bringing the Pelamis wave energy converter to the commercial marketplace.
"Right now that means demonstrating the technology, enhancing its performance—while reducing costs to become competitive with other renewable sources of energy—and developing suitable sites at which wave farms could be deployed".
Yemm's device consists of five sections linked by universal joints that permit flexing in two directions. The machine floats, semi-submerged, on the water surface and faces in the direction from which the waves are coming. As waves pass along the length of the machine and the sections bend in the water, the movement is converted into electricity via hydraulic power take-off systems housed inside each joint. The power is then transmitted to shore along subsea cables.
The machine operates in water depths greater than 50m and typically is installed 2–10km off the coast. The device is rated at 750kW and, on average, one machine will provide sufficient power to meet the annual electricity needs of approximately 500 homes.
Pelamis already has set some world records for marine energy including, in 2004, the first export of electricity from an offshore wave energy converter to an inshore grid network. Then, in 2008, it delivered the world's first multiple machine wave farm to Portugal.
However, Yemm admitted that it has not always been plain sailing.
"Developing wave power technology is not an easy task and some of the learning processes naturally show you what doesn't work, rather than what does", he said.
"We're over 15 years into the development of Pelamis, including building a total of six full-scale, grid-connected machines. And so, thankfully, we're now at a stage of proving and enhancing components and features. Pelamis technology already works; now we need to make it better and cheaper".
EMEC, established with funding of around £30mn, plays a critical part in that research and is capable of simultaneously testing 14 tidal and wave-energy designs.
The centre's Billia Croo test site was selected because it has some of the greatest wave-energy potential in Europe, with an average wave height of 2–3m. The highest wave recorded there was 17m.
EMEC's second main test site is at the Fall of Warness, chosen for its high-velocity marine currents, which can reach 8 knots in the spring tides.
"Our waves are the last great untapped renewable energy resource. Once we have successfully developed technologies to capture this energy, they can make a massive contribution to world energy supply", said Martin McAdam, chief executive officer of Aquamarine Power, which is utilising EMEC to put its Oyster technology through its paces.
Two full-scale demonstration models are currently acting as wave-powered pumps, with each pump pushing high-pressure water to drive an onshore hydroelectric turbine. Testing of the first Oyster device began in 2009, and the Oyster 800 is today producing electricity, according to McAdam.
"All ocean energy technologies have to face the challenge of making devices that can withstand the harsh ocean environment of our waves and tides", he added. "Making devices that perform reliably and cost effectively is a challenge for us all. The best way to do this is to install full-scale devices in real sea conditions and learn as much as we can".
Firms that are making use of EMEC are fulsome in their praise for the "tremendous support" and financial backing of both the Scottish and UK governments, as well as for the introduction of world-leading marine energy tariffs for energy production.
Japanese firms have been more receptive to alternative energy sources since the triple disaster, and the UK is in a good position to assist with the relevant technologies, said Matthew Matsumoto-Prouten, head of the UK Trade & Investment's manufacturing and industrial team at the British Embassy Tokyo.
"British firms are so strong in these areas because we have been doing it for so long, our companies have good track records, and there are plenty of good universities behind the research", Matsumoto-Prouten explained.
The focus in Japan appears to be more on the potential of wind power, in part because the technology is readily available and has been tried and tested over many years.
"Wave and tidal power are still in their infancy, but Japanese firms—including such large names as Kawasaki Heavy Industries—are now looking to develop devices to capture and harness these sources of energy".
Later this year, Kawasaki is scheduled to install a tidal stream energy converter—a 1MW machine affixed to the seabed—at the Fall of Warness test site.
The Scottish firms are undeterred by the competition, and believe there are plenty of waves to go around.
"Scotland is currently in a position to lead the development of wave and tidal power technologies", Yemm said. "In addition to the significant wave and tidal power resources found around Scotland's coasts, the existing oil and gas industry in Scotland provides valuable expertise and facilities when it comes to the challenges of working offshore.
"Support from both the Scottish and UK governments has helped to nurture the industry through its early stages, including the establishment of EMEC", he added. "And Scotland has a proud history of innovation and engineering that we're building on as an industry".
Further information:
The European Marine Energy Centre,
www.emec.org.uk
Pelamis Wave Power Ltd.,
www.pelamiswave.com
Aquamarine Power,
www.aquamarinepower.com