Brave paralympian gets her gear off for London dream
Posed nude in calendar to raise cash
Suffered industrial accident at age 21
Aiming for all golds on first London trip
Maya Nakanishi has never let anything get in her way. One of the top-ranked soft tennis players when she was a student in Oita Prefecture, she lost her right leg in an industrial accident at the age of 21—and her first emotion after the operation was "annoyance" at not being able to get out of bed immediately.
In the eight months before her prosthetic limb was ready and she was discharged from hospital, she was already back in full training.
After switching from tennis to track-and-field disciplines, and in full-time training since 2009, she has set national women's records in the long jump and 100m, 200m and 400m.
All the determination in the world to win will not overcome a shortage of funds to sustain the training regime, however, so Nakanishi, 26, displayed a different type of courage to overcome that additional hurdle.
She shed all her clothes to pose for a calendar that would raise funds for her to compete at the 2012 Olympic and Paralympic Games.
"I hate to lose", she said with simple finality. "It is in my character never to give up and I'm not interested in anything other than winning the first prize.
"In other countries, famous actresses have appeared in the nude to call for a ban on the fur trade and to protect animals, so I thought I should appeal to the public to change their way of thinking to help Japanese athletes who are having financial problems", she told BCCJ ACUMEN from the National Olympic Training Center, near San Diego, California.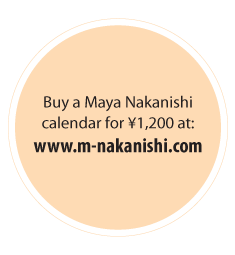 Nakanishi knows athletes who have dropped out of competitions because of a lack of funds.
Aware of the influence that athletes have on the public, she decided to do something that would have a "strong impact".
"In Japan, showing naked skin makes people uncomfortable and gives them a negative opinion", she said. "And on top of that, I'm handicapped.
"But I'm not one to compromise and I have confidence in my abilities as an athlete", she said. "So I thought that I was sure to succeed if I took my clothes off.
"Even without my clothes, I had the motivation to smash my way forward, to never give up being an athlete".
On 14 September, 2008—exactly two years to the day after her accident—Nakanishi became the first Japanese woman to stand on the start line in the final of a Paralympic Games. She ran the qualifying race for the 100m event in 13.93 seconds, breaking her Japanese record, and came in sixth place in the final.
She did even better in the 200m race, but finished just outside the medals in fourth place.
Nakanishi has been under the tutelage of Al Joyner in California since 2009, adding the long jump to her track-and-field repertoire. A mere six weeks after beginning training, and in her very first long jump competition, she set a new Japanese record of 4.71m.
She has since extended that figure to 4.96m, which put her just 13cm short of the world record.
"I want to win the gold medal in all the competitions that I'm going to be participating in when I get to London", she said. "I've got no interest in anything other than that. And I'm aiming to set a new world record in the long jump".
Nakanishi has been to Manchester before, but never spent time in London. And she says she will be competing for all the people who have encouraged her on the journey so far—family, fans, sponsors, her coach and teammates—as well as those who have handicaps.
"All seven pages of the calendar depict different expressions", she said. "And I wanted to show off my prosthetic leg to encourage other handicapped people, showing we can live with confidence and pride as well as with the strength of an athlete".
PHOTO: © TAKAO OCHI