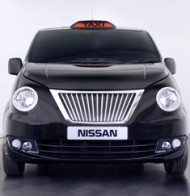 Nissan Motor Co., Ltd. has unveiled a new cab design for London, the BBC reported on 6 January.
After an initial release in August 2012, the vehicle was modified to reflect feedback from the UK government. The new black cabs will be cleaner than the current diesel ones used in Britain's capital.
Developed by the automaker's European design centre in Paddington, west London, round headlamps and a redesigned grille are key new features. The vehicle will also have LED lighting to make the taxi sign more visible.
The updated taxis will go on sale in December. Nissan plans to launch an electric version in 2015.