Three years of mud, sweat and tears
Speaking with victims has huge impact
Some directly helping orphaned children
Providing chances for outdoor recreation
Organising healthcare seminars
Play therapy key for young trauma victims
Raising cash for vegetable factory
It has been so cold in north-eastern Japan this winter that the water in the toilet of Jamie El-Banna's makeshift home freezes overnight. It is also dark inside the headquarters of It's Not Just Mud (INJM), as most of the glass that was smashed when the tsunami roared in from the Pacific nearly three years ago has only been replaced by plywood boards.
Still, it's home for the former paralegal secretary from Cricklewood, north-west London, who decided he could not sit by and watch in the aftermath of the worst natural disaster in living memory to strike Japan.
El-Banna's attitude reflects that of the entire British community—comprising corporations, diplomats and individuals—in the three years since those shocking scenes of destruction were aired on TV.
As we mark the third anniversary of the disaster, it is clear that Britons have had a huge impact on recovery and reconstruction in the Tohoku region, and that these benefactors have every intention of continuing their efforts.
El-Banna, 29, arrived in Ishinomaki, Miyagi Prefecture, in June 2011 looking to help with cleanup and recovery, but quickly realised an effective organisational structure for would-be volunteers was missing.
That led to the creation of INJM, which has since been granted non-profit organisation status and operates out of borrowed properties in the Watanoha district of the city.
"There is not much we can do at the moment because the locals tell us it's been the worst winter in 80 years in Ishinomaki and we have 50cm or more of snow lying on the ground", El-Banna told BCCJ ACUMEN.
As soon as the cold spell breaks, however, there are teams of volunteers ready and willing to head back to the town that was one of those most severely affected by the March 2011 disaster.
"I first came to Tohoku in May to volunteer for one week", said El-Banna. "I was teaching in Osaka, but wanted to do something to help.
"I had wanted to come up here immediately after the disaster but I was told they didn't want amateurs because we would just get in the way", he said. "After that first week, I went back to my job in Osaka, but the very next day I realised that I hated it. I resigned straight away.
"I honestly felt that I would be much happier and make more of a difference by literally shovelling mud".
Several hundred volunteers have now offered their time and elbow-power to INJM's various projects, with efforts over the winter focused on three key areas.
Volunteers have been out on local fishermen's boats to help bring in the catch for octopus season, while the seaweed crop also needs to be landed.
To date, INJM has helped the Playground of Hope organisation to construct no fewer than 25 playgrounds for children up and down the coast of the Tohoku region, while a third element is visiting temporary housing units in Fukushima and Miyagi prefectures to simply talk with people who have lost their homes and livelihoods.
"It might not sound very useful, but the people love it when you go around and just shoot the breeze with them", he said.
"We don't try to do grandiose events or anything like that; they just like us to visit them.
"It's a bit like going round to your granny for tea, only there are 20 grannies, or more".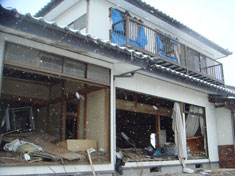 One bake sale at a time
The overwhelming desire to assist also drove Yoshimi Tamura to get involved in the recovery effort.
An administrative assistant at The Royal Bank of Scotland in Tokyo, Tamura has spent her free time volunteering to clean up affected communities and raising funds to send food, clothing, water and other daily necessities to those who have lost everything.
"The first time I went on a relief mission was December 2011, when we went to Yamamoto-cho, in Miyagi Prefecture", Tamura said.
"When I first went into the houses that we were cleaning up, I could not comprehend the sight in front of me. What used to be the living room was a metre deep in mud, with huge logs, plates, clothing and all the family's belongings mixed in together.
"It was really hard when we came across the remains of their lives—photo albums, school books, letters, children's toys—all covered in mud", she said. "They had no idea their lives were going to be totally demolished".
Tamura has volunteered every weekend since April 2011 and has been working with a group that has cleaned out more than 500 homes, reuniting many residents with items they feared had been lost forever.
She has also raised funds for 70 pairs of children's school shoes through bake sales at her office, and is now collecting more money for 84 children from Miyagi who were orphaned in the disaster.
"What I can achieve is very limited and I do not think that I have achieved much, but I hope that we are able to make a difference and encourage local people not to give up, and to rebuild their lives", she said.
Link with nature
Staff and management at the Tokyo office of Unilever were also quick to get involved in Tohoku—the first truck carrying emergency supplies arrived in Miyagi Prefecture just three days after the disaster—and the firm is now focusing on three long-term projects to assist local people.
Unilever staff are taking part in weekend relief efforts in Ishinomaki, including reviving the devastated shopping districts and helping to rebuild the port area.
A parallel campaign has been the creation of a training programme for sport instructors teaching children in Fukushima Prefecture.
Unilever also organises a ski camp and a summer camp in Minami-Aizu, Fukushima Prefecture, for children living close to the evacuation zone around the Dai-Ichi Nuclear Power Plant, giving them a chance to relax and recharge. To date, more than 300 children have taken part in the camps.
"During one of the summer camps, a child asked an instructor whether he could touch the leaves or not", said Seikei Itoh, head of communications for Unilever Japan.
"That was because children who live near the nuclear evacuation zone cannot play freely outside, or even touch the leaves because of radiation.
"At the end of the trip, the boy had a completely different face. He had been able to enjoy playing outdoors and was feeling less stress".
Unilever has employed a structured approach that it describes as the "Four Ps" of products, participation, partners and people—and local people have been hugely appreciative, Itoh said.
There is a lot more to be done over the coming months and years, he said, but Unilever is committed to the long-term rebuilding of the region.
Healthy optimism
Another British firm that has been generous in its assistance is pharmaceutical giant GlaxoSmithKline (GSK) K.K. and its Team Orange volunteers, named for their distinctive orange windcheaters and the corporation's signature colour. Team Orange has been highly visible on the ground in the affected region.
Following the Great East Japan Earthquake, the firm responded to requests from medical institutions in the affected areas by providing ¥270mn in treatments, on top of an initial donation of ¥200mn to the Japanese Red Cross on 15 March.
Further donation drives among staff have raised millions more yen.
Volunteers undertook tasks ranging from delivering relief supplies to operating a soup kitchen, clearing debris, organising healthcare seminars and even planting flowers.
Now, support has shifted to longer-term rehabilitation efforts, including the Orange Scholarship, which continues to funnel the money saved by stringent energy reduction efforts at the firm's headquarters into financial support for pharmacy students in the affected areas.
In addition, Save the Children's visionary Speaking Out From Tohoku project—supported by GSK—is designed to incorporate the opinions of children into recovery plans at all levels, from individual communities to the national government.
"I have been doing volunteer work ever since I was in middle school, as part of my extracurricular activities, so maybe I have an awareness rooted inside of me of the need to help others if I can", said Mino Yuasa, of the firm's Customer Care Centre.
"When I first arrived in Rikuzen Takata [Iwate Prefecture] and Kesennuma [Miyagi Prefecture] in August 2011, I learned what the word 'devastation' meant", Yuasa said. "It seemed that everything that had existed up until then—even intangible things like sound and memories—had been taken away by the tsunami".
Yuasa has since volunteered in the Iwate Prefecture cities of Kamaishi, Otsuchi and Ofunato, as well as helped to construct an indoor park in Koriyama, Fukushima Prefecture.
As well as the physical changes that she has seen, including housing units replacing destroyed homes and debris being removed, Yuasa says she can see a new optimism in local residents.
"I believe that a mindset has begun to take hold among the disaster victims, to accept new thoughts and ideas", she said.
"As evidence of this, there are now more and more agricultural and marine products being sold at local supermarkets and stores".
Play helps mental health
Reconstruction work will take many more years, but needs to be carried out alongside long-term mental and emotional support for disaster victims, believes Suzanne Price, founder of Price Global. She has most recently been working with the Japan Association for Play Therapy (JAPT).
"I was frustrated that I could not provide psychological and emotional support directly, and badly wanted to do something helpful and relevant for me", Price told BCCJ ACUMEN.
"I would have gone to Tohoku with the therapists if my language ability had been good enough, but given that Price Global specialises in diversity, inclusion and mental health for organisations, I figured I could instead raise money to support JAPT".
The package of initiatives included the creation of a specialised programme for parents in Tokyo on how to communicate with children in the wake of a crisis.
The revenue earned from these sessions was used to pay for JAPT to provide therapeutic play sessions and to teach skills to child carers and teachers in the affected regions.
To date, JAPT has conducted 252 workshops. Volunteers have spoken at 288 nurseries and kindergartens, and addressed 259 survivor groups. The organisation estimates it has directly or indirectly reached more than 10,000 children.
"The devastation varied, depending on the location, as did the trauma of the survivors and their reactions to the disaster", said Akiko Ohnogi, a clinical psychologist and the co-founder of JAPT. "Some had lost lots of belongings, while others lost people.
"Some people were aware of, and willing to admit to, having experienced a trauma, while others were either in shock or denial.
"As a whole Tohoku seems to have a very different culture from Kanto, especially in how they view outside support", Ohnogi said. "It took a lot of groundwork to gain enough trust from people for them to 'allow' us to help them".
Price has also been instrumental in purchasing therapeutic toys designed to assist young people in expressing, and ultimately overcoming, the emotional issues that have resulted from the trauma they experienced. Meanwhile, the provision of emotional and psychological services via JAPT remains a priority.
"As a very small entrepreneurial company, we do not have the resources for extensive CSR efforts", said Price. "However, as a mental health professional and having done a lot of voluntary work in the past—including my time as director of TELL—I cannot imagine not giving something back to humanity and the community.
"I fully understand that emotional and psychological needs emerge for years after the crisis and intend to continue to support JAPT as long as we can be useful".
Recovery wheels in motion
The urge to help has been so strong that a group of keen—but decidedly amateur—cyclists are cinching themselves into their bodysuits and again heading north to raise funds for the reconstruction efforts.
The Knights in White Lycra, who are unmistakably named after the Moody Blues song, are aiming to do significantly better than they did on their 330km sponsored ride to Minamisoma, Fukushima Prefecture, last year.
This time, they aim to complete a 465km cycle to Minamisanriku, Miyagi Prefecture, to raise funds for O.G.A. for Aid, a registered NPO.
"We will be going a little bit further and with more riders this time. We're hoping to attract even more attention and, hopefully, more corporate interest", said Robert Williams, lycra aficionado and senior investment advisor with IFG Asia Ltd.
"It's not about providing emergency supplies any more, it's about helping people get back on their feet with sustainable projects, such as the Green Farmers Association", he said.
Under the scheme, land has been provided for local people, and the Knights are aiming to raise the ¥5mn required to build a vegetable-processing factory on a designated site.
"The British community in Japan has never been backward in coming forward, and we have certainly seen that in the weeks, months and years since the Tohoku disaster", said Lori Henderson, executive director of the British Chamber of Commerce in Japan, which raised more than ¥8.3mn and contributed to no fewer than 25 reconstruction projects.
"Companies and individuals have come forward to volunteer their skills, their knowledge, their products and their time to help out. And they have repeatedly put their hands in their pockets, and I believe this support for the region will continue for as long as it is needed", Henderson added. "All of them have responded admirably".
To support the Knights in White Lycra, please visit: www.ogaforaid.org/en/kiwl.html.