Project Honours Quake Victims
Fuji Television and Sir Ridley Scott will collaborate to produce "Japan in a Day", the Yomiuri Shimbun reported on 28 February.
The project is dedicated to victims of last year's earthquake and tsunami. From midnight on 11 March, for 24 hours, the partners have invited viewers to capture the reality and intimacy of their day and to upload it on YouTube. The film will premiere in cinemas, and be screened internationally.
Media Award for Disaster Coverage
NHK has won a British award for its coverage of the 11 March earthquake, the national public broadcaster reported on 23 February.
The Royal Television Society (RTS) Television Journalism Awards 2010/2011, which honours creative and excellent journalism, gave NHK the Judges' Award. RTS said: "With the help of their 14 helicopters and 70 satellite trucks, NHK provided extraordinary live coverage of the enormous tsunami wave as it came ashore, engulfing everything—fields, farms, ports and whole villages and towns—all along Japan's north-east coast.
"It was the first time that we had been able to broadcast pictures, taken from the air, of the full power of a tsunami as it happened".
Dickens Boost to Tourism
Literary tourism, now worth £2m a year, is expected to treble during the 200th anniversary of Charles Dickens this year, thanks to Japanese and other visitors, the BBC reported on 1 February.
Dickens' legacy this year has already drawn many tourists from around the world to Kent, which inspired much of the author's work, according to the Visit Kent tourism body.
Imagine: Sir Paul and Yoko Work It Out
At a sold-out, star-studded tribute in Los Angeles, Sir Paul McCartney met an old friend—Yoko Ono, the widow of his Beatles co-writer John Lennon, the Daily Mail reported on 11 February.
The pair seemed to have put their differences aside as they were photographed chatting at the dinner table, and the acrimony that has dogged their relationship seemed far away.
Sir Paul was named 2012 MusiCares Person of the Year at the event that each year honours a legendary performer for their creative accomplishments and charitable work.
Smokers Launch JTG-backed Campaign
A lobbying organisation backed by the Japan Tobacco Group (JTG) has launched a website and petition opposing the plain packaging of cigarettes, as the UK government plans to consult the public in spring, the Talking Retail website reported on 1 February.
Campaigners Forest said: "All over the country, groups funded by the taxpayer will be gathering signatures or signing their own petitions. We want to give opponents of pointless regulation the voice they are often denied".
The campaign is supported by British American Tobacco, Imperial Tobacco Limited and Gallaher Limited (a member of the JTG).
Offer for Rare Car Rejected
The owner of a 1968 Ford Escort has turned down a £55,000 offer from a Japanese businessman, the Daily Mail reported on 1 February.
The Mark 1 model—original price, £2,919—has been painstakingly restored by Norman Hughes of Bristol, from a rusting shell and boxes of parts, and he won't sell it for under £65,000. The car was popular in the 1960s and 1970s with sales reps and young racers, but only 883 were made, one of which is Hughes' hand-built model with a Lotus twin-cam engine.
Glass Firm to Shed Jobs
Pilkington, owned by Nippon Sheet Glass, is to cut jobs at a UK factory, the Independent reported on 3 February.
The firm blamed worsening economic conditions and a slowdown in demand for solar-energy glass. The GMB union said it understood 150 jobs will be lost in St Helens.
Profits Up for Drugs Firm
Boosted by rising sales in Japan and emerging markets, GlaxoSmithKline plc (GSK) reported pre-tax profits of £1.9bn for the final quarter of 2011, up from a £193m loss during the same period in 2010, according to a press release from the firm dated 8 February.
GSK has been restructuring for three years, in a bid to save money and boost efficiency.
Science Journal Announced
Next January, the Royal Society of Chemistry and Kyoto University's Institute for Integrated Cell-Material Sciences will start publishing a new journal, Biomaterials Science, the Nikkei Shimbun reported on 16 January.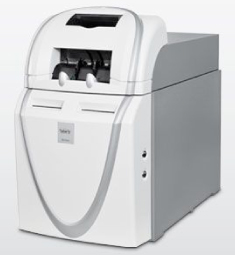 Huge Octopus Caught
A Giant Pacific Octopus arrived in Scarborough after being captured off Japan, the BBC reported on 9 February. Experts will study its behaviour.
Teen Winger Joins Bolton
Arsenal winger Ryo Miyaichi has joined Bolton Wanderers on loan until the end of the season, Football Weekly reported on 2 February. Miyaichi, 19, has played two matches this season, both as a substitute.
Cash-Machine Firms in ¥80bn Deal
Himeji, Hyogo Prefecture-based Glory Ltd is buying Basingstoke cash-handling machine maker Talaris Topco Ltd., businesswire reported on 14 February. Once the ¥80bn deal is done, Glory will control about one-third of the global market for cash-handling machines, excluding ATMs.