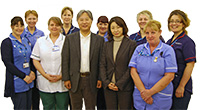 The Lincolnshire Community Health Services NHS Trust hosted Japanese health specialists as part of their research into how community services in the UK are delivered, the Lincolnshire Echo reported on 4 December.
Fumiaki Yasukawa, a professor at Yokohama City University, and Akiko Hamada, a registered nurse and president of Nurse Career Support in Yokohama, visited the trust in the hope of gaining insights that might help shape the future of community nursing in Japan.
They spent time with specialist nurses and occupational therapists, while also calling on patients at their homes and a local care facility.