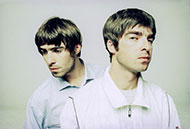 Tokyo is to host "Chasing The Sun: Oasis 1993–1997", the first exhibition dedicated to the iconic Manchester band, Japan Today reported on 22 September.
Coming in October, the event will display rare and iconic photographs, artefacts and memorabilia of Oasis, who shot to international stardom following the success of three landmark albums.
Instruments played by the Brit pop group will be on display, along with previously unseen images taken by photographers who had behind the scenes access to the band.
Special exhibits include photos from the group's first Japan tour and rarely seen live footage of their performance at the 1994 Shibuya Quattro show.