Few companies have emerged from the global downturn unscathed, but Scotland's whisky industry has proven relatively resilient — with increased exports to Japan.
"It's an affordable luxury", says David Croll, who established Whisk-e, a whisky import/export company, in Tokyo more than ten years ago with his wife Noriko Kakuda.
"Currency movements have favoured importers and single-cask whisky is priced for drinking, so people have continued to enjoy it. Interest in whisky has also increased, particularly among younger Japanese women keen to learn more and discover new flavours".
Croll, whose father was Scottish, has always loved Scotland and Scotch, so it was no surprise when he swapped a successful banking career for the whisky business.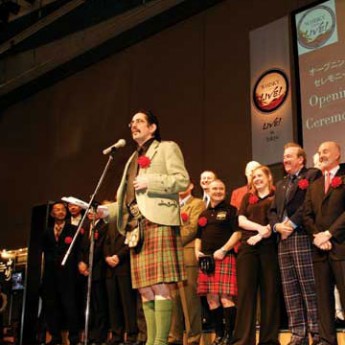 "Every year since 1992 my wife and I have visited Arran, one of the southernmost Scottish islands. When the Isle of Arran distillery, which was established on the island in 1995 and is renowned for its malt whisky, said it was looking for someone to 'wave the flag' for it in Japan, we were keen to help. Whisk-e grew out of that", he told BCCJ ACUMEN.
"After we obtained our import licenses, we started selling whole casks to individual bars. At the same time we met many enthusiasts and helped them source old and rare bottles".
In 2000, Whisk-e was approached by Whisky Magazine and The Scotch Malt Whisky Society, a 30,000-strong global society dedicated to the enjoyment of exceptional single-cask, single malt whisky. Today Whisk-e publishes the only whisky magazine in Japanese with international and local Japanese input. It also made Japan the society's first international branch with its own tasting premises.
"Everything here seems to take three times longer, so you need to have a passion for what you do and keep a positive outlook. The people who work for you must also have that spark. We are not selling car parts; there has to be a real passion for whisky".
There continues to be a growing interest in Japan regarding the sheer range of whisky varieties available. "One of our most popular events is Whisky Magazine Live! at Tokyo Big Sight in Odaiba each February", says Croll. "Last year we had nearly 5,000 visitors who came to meet the 30 or so distillers and blenders, taste unique samples, and participate in master classes. It's a fun event and so draws many young Japanese keen to learn about the world of whisky. At least 30% of visitors are female".
Croll is also happy to export exceptional Japanese whiskies. "It's a bit like the car industry. When Japan first started making cars they were cheap and not considered to be top quality. Now the Lexus is among the best cars available. There has been a similar change of perception with Japanese whisky, from an image of cheap blends to one of award-winning single-cask whiskies. In 2002, for example, Hokkaido-based Yoichi Distillery won an international competition for the best single malt whisky".

"The emergence of quality Japanese whisky has been a good opportunity for us as small distilleries are not usually geared for exports so we are able to help. Being small and specialised means we are flexible, can make decisions quickly, and respond to opportunities as they come along".
"The level of interest in Japan
is wonderful", he adds. "We arrange tasting events and tours and provide whisky bars at parties. Themed tastings are very popular, especially whisky paired with chocolate or sushi".
Croll says their annual visits to Scotland meant it was a logical step to buy the elegant 4 Star-rated country hotel, Butt Lodge, on Arran.
"It's just a short stroll from the distillery, which is very convenient", he laughs. "The hotel is quite distinctive as we've brought a classic Japanese touch with various decorative items and a two-acre traditional Japanese garden. The most interesting element, however, is our hinoki onsen-style bath, which overlooks the Japanese garden. It has proved immensely popular with golfers and walkers who return home tired, cold and wet after a day enjoying the outdoors. There really is nothing better".
Perhaps … but enjoying a wee dram of golden whisky while relaxing in the bath's hot waters would surely elevate the bathing experience to sheer perfection?