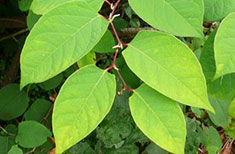 A man living in the West Midlands murdered his wife and blamed Japanese knotweed for his and her deaths, The Daily Telegraph reported on 31 March.
Dr Kenneth McRae bludgeoned his wife to death and then committed suicide. In his final note, he claimed his sanity had become "disturbed" by fears the invasive plant would reduce the value of his mortgage-free property.
"I believe I was not an evil man, until the balance of my mind was disturbed by the fact there is a patch of Japanese knotweed which had been growing over our boundary fence on the Rowley Regis Golf Course", he wrote.
Japanese knotweed was introduced in the UK by the Victorians. In Japan, the plant's growth is controlled by natural predators such as insects and disease. In Britain, however, it is virtually indestructible, and can grow up to 10cm a day through roads, and floorboards.