Record-breaking global solo row, despite fear of deep water
For someone who spent four months rowing solo from Australia to Mauritius, and then decided to go one better by cycling and rowing around the planet, Sarah Outen has a very curious fear.
As she carefully lays out all the food, clothing and paraphernalia required to take on the next leg of this two-and-a-half-year odyssey—the 4,500 nautical-mile crossing of the North Pacific in a 7-metre boat called Gulliver—she makes her confession.
"I'm scared of swimming in deep water", she admits. "Getting into the boat is a nervous time for me and, even though I like being in the water, I'm always a little bit frightened about what might nibble my toes".
Saying that she would not have started out had she not intended to finish the journey, she agrees there are other dangers out there on the Pacific, commenting that she has not yet experienced a boat pitch-poling (going stern over bow), and adding hastily that she has no desire to do so.
Outen, from Oakham in Rutland, started the London2London: Via the World trip by rowing beneath Tower Bridge on 1 April, 2011. Since then, she has cycled across Europe, China and parts of north-east Russia; kayaked to Sakhalin; hopped back on the bike for a bit; and completed the stretch to Japan by kayaking to Hokkaido in October.
The 38-nautical-mile crossing to Japan was her longest to date, having taken 12 hours. During her trip so far, she has endured 40 punctures, replaced two bicycle wheels, bought two new pairs of shoes, suffered food poisoning and had three marriage proposals.
For the past five months, Outen has been preparing for what is arguably the toughest leg of the entire trek, undergoing treatment on a minor back injury and spending a week volunteering with It's Not Just Mud, the international NPO that has been assisting in tsunami-devastated Ishinomaki City, Miyagi Prefecture.
But with the arrival of spring and, she hoped, both fair winds and a kind current, Outen was back at Choshi marina in mid-April, applying the final touches ahead of her departure.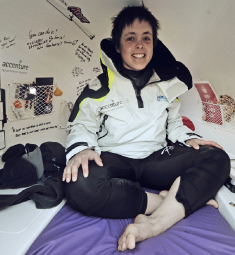 "I had made 20 April my departure date, but with ocean rowing you want to have the help of the winds to get you out to sea", she said. "At the moment, we're looking at 24 April being the best day for my departure". Her departure has since been further delayed, by strong winds, and put back until mid-May.
Outen is aiming to get into the Kuroshio Current as it runs up the east coast of Japan before curving eastward and out into the Pacific. After that, she says, it's a case of seeing what the elements throw at her.
Only three crossings of the Pacific have been completed by rowers setting out from Asia. No-one has attempted the northerly route that Outen is planning to take and, if all goes according to plan, will see her reaching the Canadian coast in around 150 days. To be on the safe side, she has sufficient food for five months afloat—including no fewer than 700 bars of chocolate provided by Mars, one of her main sponsors, and a bottle of her mother's home-made sloe gin.
"It's important to have a little treat on the boat now and then", she said. "And I shall have some to mark my birthday on 26 May".
Outen will turn 27 on that day and expects to spend her birthday on the Atlantic Ocean, as she completes the last leg of the trip back to Tower Bridge.
"I love the challenge of all this", she said. "The discovery, being immersed in the landscape, travelling so slowly that wildlife comes up to you.
"The bicycle is not intimidating, so meeting people is easy and that gives you a far deeper insight into their cultures", she said.
Outen, who graduated from Oxford in 2007, undertook her first major expedition in 2009 and rowed her way into the Guinness Book of Records by becoming the first woman to row solo across the Indian Ocean. That journey was, in part, inspired by the death of her father six years ago and the journey raised funds for a charity that helps people suffering from rheumatoid arthritis.
Her aim now is to use this latest expedition to raise £100,000 for good causes, including campaigns to combat breast cancer and motor neurone disease, the WaterAid anti-poverty charity, as well as the Jubilee Sailing Trust, which helps physically challenged people enjoy sailing.
"I look at all this as just following my dreams and, I hope, doing some good along the way", she said. "I have no idea what I will end up doing afterwards, but I'll let any ideas evolve and see where they take me. But I know I'm not the sort of person who will ever be happy just sitting in an office".
Follow Sarah
www.sarahouten.com