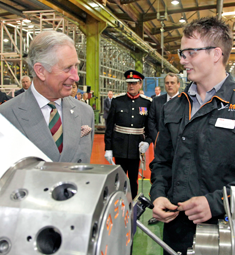 Prince Charles visited the Yamazaki Mazak Corporation factory in Worcester to learn about its highly regarded training programmes for young workers, The Japan Times reported on 6 June.
He hoped to find out more about both the firm's apprenticeship scheme and its investment in young engineers.
Yamazaki is one of the world's leading machine tool manufacturers and makes numerically controlled metal-cutting and laser-processing machine tools for British and European markets.
Yamazaki's British operation, which employs 500 people, has twice received the Queen's Award for international trade in recognition of its contribution to the British export economy.