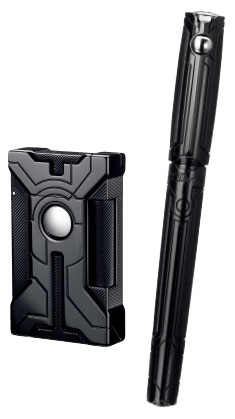 Taking inspiration from their history to build their future—that is the essence of S.T. Dupont, according to President and Representative Director Yoshikazu Yann Gahier.
The iconic brand, world-renowned for its timeless elegance and refinement, will launch new collections this season.
The French maison was born in 1872, when founder Simon Tissot Dupont created a travel case and leather goods workshop. The excellence of craftsmanship, married with creativity, imagination and innovation, soon attracted the attention of the French royal family, ambassadors and celebrities.
Now, celebrating 142 years, the emblem of French luxury is represented in 80 countries worldwide and specialises in four 'arts': travel (leather goods), fire (lighters), writing (pens) and seduction (accessories).
In Japan, it boasts a flagship store in Ginza, as well as corners in department stores across the nation.
In their appointed position as official supplier to the French Republic, S.T. Dupont created a travel case for the future Queen Elizabeth II, to be presented by the president on her marriage in 1947. In keeping with the tradition, Prince William and Kate Middleton received one on their wedding day.
Over the years, the signature lines that made S.T. Dupont a status symbol have been accompanied by contemporary pieces—including of designer Karl Lagerfeld and Eiichiro Oda, creator of the best-selling manga One Piece—all produced with exceptional creativity and expertise.
"We innovate constantly, but always keep the core DNA and essence of S.T. Dupont that has been there for 140 years", he said.
And what could be more modern than their newest creation, set to enter stores in July. "Armors of Tomorrow", inspired by legendary science fiction heroes, is a tribute to futurism and innovation.
The Prestige Collection is the result of three years of research and development by S.T. Dupont. It pioneers the use of Ceramium A.C.T. (Advanced Ceramium Technology), a revolutionary combination of aluminium and ceramic that is three times more resistant to scratches and almost half the weight of traditional S.T. Dupont items.
The writing instruments are complete with intricate guilloche work and signature engraving, as well as a 14k solid gold nib. Both pens and lighter feature an authentic haematite stone and are finished in palladium—a precious white metal.
It is the perfect combination of aesthetic purity and cutting-edge technology, providing luxury and quality with the convenience of significantly reduced weight, Gahier highlighted.
The Limited Edition "Armors of Tomorrow" Prestige Collection starts from ¥124,000 and features a fountain pen, rollerball pen and a lighter.