Back in 1863, UK–Japan relations "got off to a bad start" in Kagoshima, admits Sheffield-born Alex Bradshaw.
Now, 154 years after Royal Navy warships bombarded the city on the island of Kyushu in retaliation for an unfortunate confrontation, the public relations manager for the Sengan-en traditional Japanese garden and stately home is doing everything in his power to forge deeper and stronger ties between the two countries that he considers to be home. The initial clash was the Namamugi Incident in 1862, in which a British merchant was killed by samurai escorting the father of the daimyo (feudal lord) of Satsuma.
Notwithstanding the brief attack on Kagoshima the following year, known as the Anglo–Satsuma War, there are a surprising number of links between this part of Japan and the UK.
Those connections include members of the British Royal Family having visited Sengan-en in the past. Gifts presented to Edward VIII in 1922 are still in the possession of the Royal Collection, and Bradshaw travelled to Buckingham Palace to inspect them in February.
"I'd like to revisit the shared history between Satsuma and the UK as a starting point", Bradshaw told BCCJ ACUMEN. "The UK played an important part in the modernisation of Japan, and I think that story is not well known.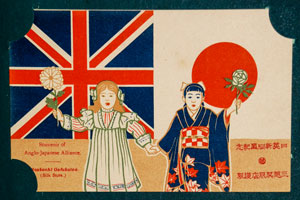 "I believe that culture—whether traditional or modern—is really the basis of promoting meaningful links between countries", he added. "Japan puts a lot of emphasis on 'soft power', and culture really is the driving force behind this".
Although Sengan-en, and Kagoshima more generally, are at a distance from the traditional destinations of Tokyo, Kyoto and Osaka for first-time visitors to Japan, in April 2016 Bradshaw helped to launch an aggressive new international promotional campaign.
"We hope to provide authentic Japanese cultural experiences that tourists can then share with their friends and family—promoting Japan—and particularly Japan at a grassroots level", he said. "I'd also like to work on events that promote British culture in Japan".
Bradshaw, 37, studied social and economic history at the University of Leeds, before a spell as a systems engineer. But a long-standing fascination with Japan, including in martial arts and Japanese films, encouraged him to apply to join the Japan Exchange and Teaching (JET) Programme in 2005.
After five years on the JET programme, Bradshaw set up his own language school and dabbled in a number of other enterprises, ranging from working as a reporter for a local TV station, to lecturing at a university, translating and organising an international karate competition.
Offered a position at Sengan-en by the firm that operates it, Shimadzu Ltd., Bradshaw sold his language school and began working there. The aim, Bradshaw says, is to serve as a link between Kagoshima and the UK.
"The problem with living abroad is that after a while you don't really know where you come from any more", he said. "When I'm in the UK for two weeks during the summer, living in Japan almost seems like it was a dream. When I'm in Japan I don't really think about the UK, except as a distant memory. It's very strange really.
"I suppose I want to reconcile that for myself in a way. Because I love both places so much I really want my friends and family in both countries to see how great each place is", he added.
"On a business front, I suppose people are more likely to travel to a destination that they feel some sense of familiarity with", he emphasised. "Not that they would necessarily know the place, but just that it feels relevant to them. For me, I suppose rather than national relations, I'm hoping to promote personal relations".
And the starting point is some of the shared history.
After the unpleasantness of the two-day Anglo–Satsuma War, the two sides built up a high degree of cooperation.
In 1865, Satsuma managed to evade the shogun's edict on overseas travel and sneaked out 19 young men to be educated in the UK under the premise that they were visiting islands south of Kagoshima. They were educated at University College London, a connection set up by Thomas Blake Glover, the Scottish merchant who was based in Nagasaki. But one member was too young to be admitted to university, so went to study in Aberdeen and stayed with Glover's family.
Subsequently, seven British engineers were employed to teach modern manufacturing techniques and were housed opposite Sengan-en, while the machines that are still at the site were purchased from Platt Bros. of Oldham. One of the earliest English–Japanese dictionaries was also produced in Kagoshima, while the medical department of Kagoshima University was founded by the British doctor William Willis. Other visitors included Glover, diplomat Sir Harry Smith Parks as well as scholar, diplomat and Japanologist Sir Ernest Satow.
Britain played a significant part in Japan's industrial revolution during the Meiji Era, with Sengan-en and the adjoining Shoko Shuseikan site being awarded UNESCO World Heritage status in 2015 for their contributions.
Prince Arthur, the Duke of Connaught and grandson of Queen Victoria, visited Sengan-en in 1906 and was reportedly particularly keen to meet Marshal-Admiral Togo Heihachiro—who had studied naval techniques in the UK and became known as "the Nelson of the East"—to discuss his successes in the Russo–Japanese War of 1904–05.
In 1922, Sengan-en also hosted Edward VIII, when he was Prince of Wales.
"I would say that the people of Kagoshima do not know too much about the UK, despite these links, because it's not something they have any relation to in their everyday lives", Bradshaw said. "That is why I would like to use those historical ties between the UK and Satsuma as a starting point for the creation of new relationships between both countries".