Following are the words of the original speech delivered on 25 November at the unveiling event, which had been scheduled for 16 May but was postponed due to Covid-19.
In September 2015, I founded The William Adams Club with the enthusiastic support of Ian de Stains OBE, who accepted my proposal that he act as joint chairman along with me. He was stable, thoughtful and charming, and introduced our embryo club to the Tokyo Club, where he was the managing director, as an ideal location for our regular dinners. It was not long before Ian's health deteriorated, and he passed away in December 2017. Today, I signal recognition of his contri­bu­tion, and he continues to be greatly missed. He would have loved to be here today.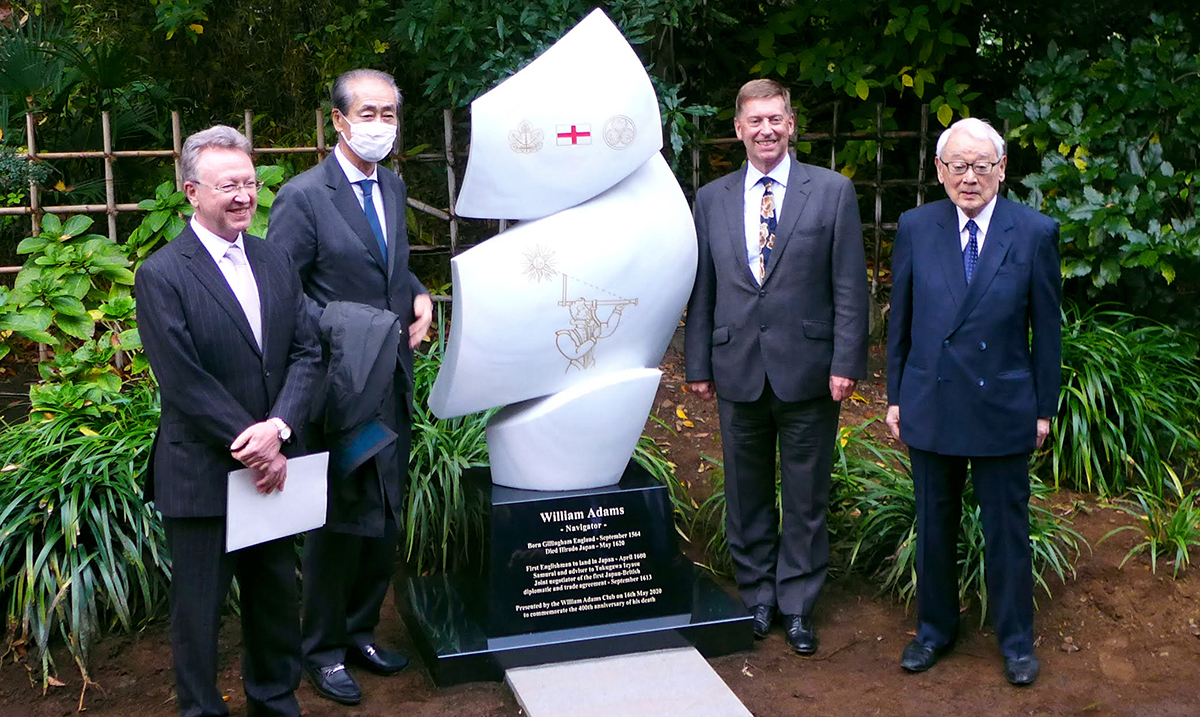 Professor Tim Minton OBE has stepped into Ian's shoes, both at the Tokyo Club and at The William Adams Club, and his immediate and totally unconditional support on all matters has been integral to our club reaching this historic day safely and securely.
Indeed, when I suggested to Tim that we couldn't possibly allow our current ambassador to depart these shores without recognition—due to the vagaries of Covid-19—after all he had contri­buted to the success of our club, he was immediately enthused.
Our discussions evolved into this special event today, limited to a maximum of 20 guests, so that Paul Madden CMG may have the pleasure and memory of unveiling this memorial sculpture—beautifully crafted by Kate Thomson, who is here today—with photographic evidence provided by Simon Farrell, who is co-founder and publisher at Custom Media, the William Adams Club's media consultants.
This memorial sculpture has been in the making for three years, during which time Paul Madden not only granted us this outstanding site, for clear viewing and inscription readability, but was also involved in monitoring the whole process from the conceptual stage, the design details and, finally, the end product you are about to see unveiled today. And throughout his tenure of office, he has attended virtually every club dinner, greatly adding to the credibility of our evolving organisation. We could not have asked for more support and, effective 1 January, 2021, he will become one of the Patrons of the William Adams Club.
Long speeches outside are to be avoided late in the afternoon in late November, and that is why you have already received full details of the memorial sculpture and its symbolisms. Several memorials to William Adams (Miura Anjin) have been erected by the Japanese, but this is the first to be instigated by the British, deliberately to mark the 400th anni­versary of his death at Hirado in Japan.
I have chosen a sequence of words to create a full verbal montage of the achievements of this great man, born in humble circumstances at Gillingham in England:
Maritime apprentice, mariner, navigator, captain, fought Spanish Armada, Barbary Coast trader, married, father, adventurer, survivor, first Englishman in Japan, linguist, ship builder, interpreter and adviser to Tokugawa Ieyasu, teacher, hatamoto-level samurai, estate owner and farmer, merchant, diplomat and joint negotiator of first Japan–British diplomatic and trade agreement
All these achievements were made in a lifespan of a mere 56 years, and they are celebrated with this memorial sculpture to be unveiled by Her Majesty's Ambassador to Japan, Paul Madden CMG; Tsunetada Matsudaira Esq, representing the Tokugawa family; Tsunehara Takeda Esq, representing the Tokyo Club; and Professor Tim Minton OBE, representing his fellow William Adams Club joint chairman, Akira Matsura Esq., who is unable to be here today.
Before moving on to the unveiling itself, a sincere thank you to all of you here today who contributed to the memorial fund, with particular recognition of the Tokyo Club for a most generous donation though their cultural grants programme, which welcomes applications from men and women of whatsoever nationality.
Thank you very much for listening to my message from afar. The William Adams Memorial Sculpture will now be unveiled.