Reserve your seats or table now at Japan's biggest foreign business awards event of the year—the 2011 British Business Awards (BBA)!
The BBA event will include:
• Great British menu by acclaimed chef Jean-Marie Pougnet
• Wine from Berry Bros. & Rudd
• Whisky and Royal Deeside water
• Classic and contemporary entertainment
• Charity auction for business regeneration in Tohoku
AWARDS
Ambassador David Warren will present a specially commissioned marble sculpture by UK and Tohoku-based artist Kate Thomson to winners of these awards:
• Company of the Year
• Design and Innovation
• Environmental Contribution
• Social Responsibility
• Person of the Year
To reserve your place (before 24 October), please visit "Events" on the BCCJ website: www.bccjapan.com

---
Mrs Moneypenny, guest speaker
UK-based businesswoman Mrs Moneypenny (a pseudonym), writes a weekly column in the
Financial Times
, a newspaper read by more than 700,000 people worldwide. She has three children, to whom she refers as her three Cost Centres, and a golf-obsessed Australian husband.
She has published five books and her next one, Mrs Moneypenny's Careers Advice for Ambitious Women, is to be published by Penguin in January 2012. In 2010, Mrs Moneypenny put on a one-woman stand-up show at the Edinburgh Fringe Festival, which subsequently transferred to New York for an off-Broadway run in December that year. For Channel 4, she presents a prime-time television show, Superscrimpers, the second series of which is currently being filmed for broadcast in early 2012. In the latest series she takes a practical but entertaining look at how people are living more frugally in these straitened economic times. During the day, she runs a successful company in London's West End and sits on the boards of various charities and other organisations.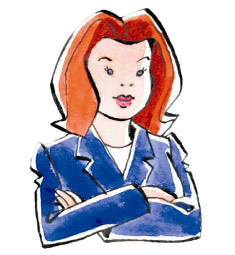 Mrs Moneypenny writes for BCCJ ACUMEN
"The nearest experience to landing on Mars that most Britons will ever have, I reckon, is to visit Japan for the first time. For those who have lived in Japan, it seems totally normal to have train and bus attendants handling luggage wearing white gloves, to have no conventional street address, to be able to interpret the meaning of a bow from the depth of the incline and (as a woman) to be groped on a commuter train.
"Back in the UK, these things are totally alien. You are lucky to have anyone to help you with your luggage on a bus or a train, and white gloves are almost impossible to buy these days, even in John Lewis. My 12-year-old child cannot remember life before we had a GPS, much less draw a map of where his house is and send it to someone planning to deliver a pizza. You can't tell from their handshake whether someone is trying to apologise—unlike in the case of a bow—although you can tell a lot about them from how sweaty or limp the handshake is. And as for being groped on the underground—at the age of 49 and with a body mass index (BMI) of 37, I wish.
There have been changes for the better in both countries since I lived in Japan at the end of the 1990s. For a start, when I come back to visit this November, to speak at the 2011 British Business Awards, I will fly (BA, of course) into and out of Haneda. How brilliant is that? For the first time ever on a trip to Japan, I shall be travelling by car from the airport to my hotel and won't need a mortgage to pay for it.
In the UK, we have built Terminal 5, which is so shiny and new it is like visiting a different country and is the only place in the country where the Wi-Fi and mobile phone signal works on the underground train. No wonder BA has bagged it all to themselves.
But even though we are two very different countries, we have a strong connection. It was never a surprise to me that Sir Peter Parker—the most successful chairman of the UK's railways since Isambard Kingdom Brunel built them—spoke fluent Japanese and lived in Japan during the reconstruction years after World War II. It is a matter of astonishment to UK visitors that Japanese trains leave (and arrive) on time, are efficient, clean and great value for money.
I thought about all this last week as I sat at Oxford Station for more than an hour, because of a delayed train, waiting for a connection to Birmingham.
And the events of 11 March were felt emotionally, if not physically, in the UK by many people other than me. There may be earthquakes, or even tsunamis, on Mars—who knows? No one has ever been there. But many of us have been to Japan, and loved it. I can't wait to be back.
See you on 4 November!