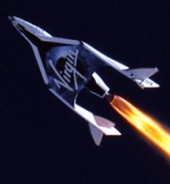 A Tokyo-based travel agency has been set up to handle space tours for Virgin Galactic, The Japan Times reported on 7 January.
The agency, a unit of Club Tourism International Inc., is now the only official vendor in Japan for Virgin's space tourism arm. The first-ever commercial space tours are expected to take off in late 2014 and will cost about ¥25mn each.
About 600 people, including 18 Japanese, have so far booked passage on the galactic journey. Virgin expects that about 30,000 passengers, 900 of them Japanese, will take part in the tours during the first 10 years of operation.