UK students help Japanese firms to innovate
Recognised as being among the best in the world, British universities specialising in the creative arts are being sought out by Japanese firms that are looking to add to their corporate profiles a new way of thinking and interacting with their clients.
That connection is being assisted by the Eden Project—Education Design Enterprise Network—which was set up here in February as a collaboration between higher education in Britain and firms in Japan.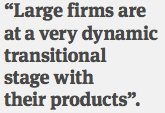 "Firms are interested in British universities because of their attitude, their understanding and their motivation", said Gen Ide, a consultant between Japanese firms and the six individual colleges that make up the University of the Arts London.
"They really understand the value of creativity and innovation and, in that sense, you could say that the UK is currently the most advanced in the world", he said.
The Eden Project is essentially a design platform in which different disciplines from different universities are able to come together. The client firm pitches an idea for a project and any of the members can respond with an image of what they would like to do. The client can then choose the proposal that best meets its needs and deal directly with the college.
That is a very different approach from Japanese arts universities, says Ide, which are simply places to study or research and are "very detached from Japanese society and industry".
In an increasingly globalised world, he believes Japanese firms are growing more interested in finding a new way of looking at their clients.
"Large firms are at a very dynamic transitional stage with their products", said Ide, mentioning a well-known Japanese electronics firm. "They have a product that is already very commercialised and the market is saturated, so they are facing difficulties expanding their market.
"They have to start thinking about creativity and innovation in their products, but also in their firm, their organisation", he said. "They are looking for ways to explore those areas.
"Large Japanese firms are traditionally not so good at that".
The success of British arts universities, primarily in the UK and Europe, has been noted in Japan, he said.
"People recognise UK universities as centres for research and enterprise, and of collaborations between different disciplines and different kinds of people", he said.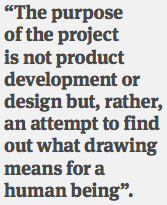 And while their achievements have attracted attention, there are still a lot of Japanese firms that do not know what is happening in the UK art and design scene. The hope is that, by bringing together firms and the universities through the Eden Project, there will be increased awareness and interest.
Another element is the development of human resources, especially in terms of creativity on a global scale.
"Japanese firms don't have that now and organisations that want to globalise their operations are very interested", he said, adding that firms such as advertising agencies are looking for people with that kind of background and skills.
The first project to come to fruition is a collaboration between the Chelsea College of Art and Design and major stationery manufacturer Kokuyo Co., Ltd.
The project, called Drawing Machine, is the creation of a device that can draw maps or pictures using the stationery company's products.
"The purpose of the project is not product development or design, but rather, an attempt to find out what drawing means for a human being", says Ide. "Why do we draw? How can it make our lives different? As the world becomes more digitised, people do not draw so much, so they are trying to find the value of drawing as an analogue activity and trying to evaluate what it means to us.
"By doing that, we can contribute to the stationery company's future branding and product development and help diversify its business, which will encourage innovation in its future operations".
About 20 students have been working on the project in London under the guidance of their professors. And while they are not paid for their work, they gain invaluable experience and are able to develop the skills they will need in the future in their careers.
The next project that is on Ide's horizon will bring together British students with a home electronic-appliances firm that fears the market here is saturated and wants a new tactic to win over new consumers and keep hold of their existing customers.
"The request is for the design of a new sort of relationship between the company and its customers, it is not just about the product", said Ide. "It's a rethink of the entire relationship.
"Before, they sold a product, the consumer paid and that was the end of it", he pointed out. "They want to remain connected, to encourage more loyalty in the brand and make their ideas more interactive—a more enthusiastic relationship".
The firm is also interested in exploring possibilities in the area of fashion, he said, so there are also potential opportunities with students from fashion and textile backgrounds.
For more details: genichiide@aol.com
*Top image: London students visited Tokyo in 2011 for the Eden Project.