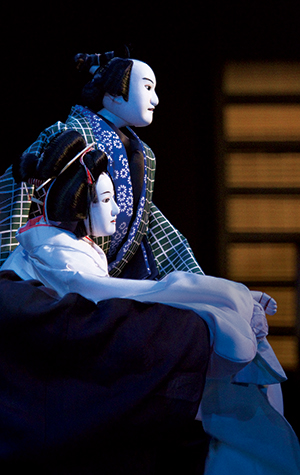 The subtle movement of the puppet's head and its lifelike gait, the perfect harmony between its actions, the narration and the music—all have taken generations to perfect. And the work that goes into each performance of Bunraku puppet theatre draws on that heritage.
Now, the National Theatre is bringing this quintessentially Japanese art to a non-Japanese audience with a special performance.
Sonezaki Shinju—a 300-year-old masterpiece that depicts the tragic tale of two young lovers—will be preceded by an introduction to Bunraku by Daniel Kahl, a well-known commentator on Japanese cultural and social issues.
"I hope to provide some insight into the great effort that goes into presenting a Bunraku play—not only the technical aspects, but the years of training devoted to an exacting traditional art", he said.
"The beauty of Bunraku perhaps lies in the little things: the nuance of the slight tilting of the puppets' heads and the almost imperceptible waver of the narrator's sing-song", he added. "This is what makes Bunraku unique and simply wonderful".
With companies, performers and puppet-makers designated as Living National Treasures of Japan by the government, Bunraku has a long and established history, having reportedly been first performed around 300 years ago.
Traditionally, the main characters are manipulated by three puppeteers: one for the legs, one for the left hand and one for the head, face and right hand called the omozukai (lead puppeteer).
In the world of Bunraku, a decade of intense practicing is required to make the movements of the feet appear truly human, while another 10 years is considered adequate to skilfully operate the left hand. Only then can a puppeteer consider moving on to controlling the puppet's head.
The puppet-masters, who often appear on stage veiled in black, are assisted by the tayu (chanter), who provides the voices of all the characters in the play and serves as the narrator. The third, and equally important, component is the music. With the three-stringed shamisen, musicians convey not only the meaning of the play, but also the personality of the characters.
"Bunraku is unique amongst all the various puppeteering arts around the world", said Kahl, adding that it is "arguably the most life-like, most realistic form of puppetry in the world".
"I think Bunraku has survived so long perhaps because it evokes and stimulates human emotion at least as well as human-acted plays and, in some cases, even more so", he said.
The performance at the National Theatre, a five-minute walk from Hanzomon Station, will be in Japanese, but audio guides will be provided to translate the dialogue and lyrics into English, Chinese and Korean.
---
The National Theatre
4-1 Hayabusa-cho
Chiyoda-ku, Tokyo 102-8656
23 May; 6:30pm
Adults: ¥3,900; students ¥1,300
Telephone bookings in English: 0570-07-9900 (from 7 April, 10am–6pm)
Online bookings: http://ticket.ntj.jac.go.jp/top_e.htm