I am delighted to send this message to the readers of BCCJ ACUMEN on the occasion of the Diamond Jubilee of Her Majesty Queen Elizabeth II.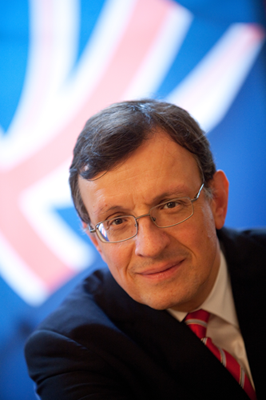 Her Majesty came to the throne on 6 February 1952, and her coronation took place on 2 June 1953. Hers is the second-longest reign in British history, after that of Queen Victoria, from 1837 until 1901. There will be an extended bank holiday weekend of celebrations from Saturday 2 June to Tuesday 5 June, with activities throughout the UK, across the Commonwealth and beyond.
As British ambassador, I always enjoy the opportunity to speak to Japanese audiences about my country today. And, while I greatly respect the affection that I know many Japanese feel for the traditions of Britain, I also try to give an impression of how Britain has changed during my lifetime to become a more diverse and more innovative society. This is as true of the Diamond Jubilee as it is of other manifestations of modern British life. This is a Jubilee of the digital age, as you can see through social media and at the official Diamond Jubilee website.
For those of us not living in the UK, the Royal Commonwealth Society is inviting people around the world to share their memories and stories of the last 60 years to create a digital Diamond Jubilee gift for Her Majesty. You can find out more on the Jubilee Time Capsule website.
The Jubilee celebrations come during a very exciting 2012 for the UK. In only a few weeks' time, London will host the 2012 Olympic and Paralympic Games. I am sure that the millions who visit to experience the games at first hand will also discover why Britain is one of the most exciting places in the world in which to live and work.
Many in Japan already know this. There are over 1,200 companies from Japan employing more than 130,000 people in the UK. London is the world's leading international finance centre, where all the major Japanese financial companies are represented. Britain is a top destination for education and tourism, with over 400,000 young people going there to study and 13mn tourists each year.
But we want to take this further. During the recent visit to Japan by Prime Minister David Cameron, we launched the GREAT campaign here by briefly turning the iconic Shibuya crossing into a little corner of Britain. The prime minister's visit also produced a Joint Statement that reflects the commitment of both countries to strengthen further our close links in many areas, across an ambitious agenda of new co-operation. I'm very pleased that BCCJ ACUMEN is publishing the text of the statement in this edition.
And I would like to take this opportunity to wish the members of the BCCJ and the readers of ACUMEN a great summer and, of course, a wonderful Jubilee weekend.