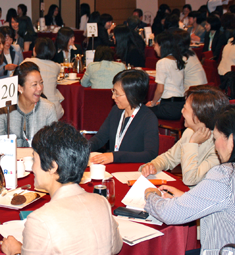 The next generation of women leaders in business
The Seneca Falls Convention, held in New York in 1848, was the first conference in the Western world to be organised by women. It sparked the women's movement in the US and could even have inspired the founding of the U.S.–Japan Council (USJC) in 2009.
On 27 May, the council and the American Chamber of Commerce in Japan (ACCJ) held a Women in Business Summit at the Tokyo American Club. It was a rare opportunity for representatives from Japan-based organisations that focus on the advancement of women in business to meet and discuss their tips for success.
The event included two keynote speakers, a panel discussion and buzz session, as well as a training session conducted by Yoshiko Otani, president of Office Otani and a certified trainer for Dale Carnegie Training, and Suzanne Price, BCCJ vice-president and representative director of Price Global.
The government, seemingly supportive of women in business, has seen encouraging moves by Japanese firms, including Hitachi, Ltd., who recently announced that, by 2020, they plan to increase the number of women in senior management from 400 to over 1,000.
The Liberal Democratic Party of Japan and the Democratic Party of Japan have both implemented policies reflecting their aspirations: by 2020, having women account for 30% of senior positions in government and the private sector.
In addition, the government of Japan recently established a multi-ministerial panel, comprising the Ministry of Health, Labour and Welfare and the Ministry of Education, Culture, Sports, Science, and Technology. Within two years, the panel is to set up a new agency that will formulate childcare-related policy.
ACCJ Women in Business Committee co-chair Deborah Hayden said: "Japan, sadly, ranks the worst in the world for women directors: only 1.1% of company boards have female members. The average in developed countries is 11.8%".
Founded here in 2012, the council serves to strengthen US–Japan relations. It brings together a variety of leaders and engages stakeholders, while exploring issues that benefit communities, businesses and government entities in both countries.
According to Hayden, the focus of the women in business committee is advocating for gender and diversity inclusion; equal opportunity for women to excel at all levels of organisations; and a productive working environment for everyone, from new entrants to directors.
"We must all raise our voices to make sure the government and senior business leaders in Japan understand that women can have a choice—between child-rearing and a career", she said.
"The glass ceiling is slowly cracking", she added.
Prime Minister Shinzo Abe recently pledged to increase the number of board members in Japanese firms and admitted that women are the driving force of the economy.
"Japan ranked 101 out of 135 countries in the 2012 World Economic Forum [WEF] Global Gender Gap Report, mostly due to the low participation of women in leadership positions, corporations and politics", explained Mitsuru Chino, executive officer and general manager of the legal division of ITOCHU Corporation.
"During this time, it is not as if Japanese companies have done nothing in striving to lessen the gender gap", said Chino who, in 2004, helped her firm start a diversity programme and was recognised as a young global leader by the WEF.
According to Chino, to promote gender diversity some Japanese firms have started initiatives, including the targeted hiring of women, introduction of flexible work hours, offering of longer maternity and paternity leave, and making available mentoring programmes. Some progress has been seen.
"However, much more is needed to close the gender gap, both at a larger scale and at the grassroots level", she said.
"Women can do a lot to empower other women", she added. This could include taking on a mentee or encouraging a fellow colleague to apply for a better position within the firm.
"The confidence of Japanese women needs to be boosted, and every woman should help and encourage others to find their hidden potential and talent", she added.
"It is shameful to have such a low percentage of women represented in senior positions in the world's third-largest economy", said Sakie Fukushima, president and representative director of G&S Global Advisors Inc.
In addition, firms should support women to ensure they continue building their careers.
According to a survey conducted by the Japan Association of Corporate Executives (Keizai Doyukai), the majority of firms in Japan are diversifying their boards by recruiting independent board members from outside the firm.
Meanwhile, the poll found that, according to executives in charge of employing new graduates, if hiring decisions were made solely based on university marks and interviews, 70% of the new hires would be women.
Some 67% of the firms surveyed indicated that their managerial strategy already included, or planned to include, the introduction of diversity in the decision-making boards.
Although Abe has been implementing new policies for the promotion of women, Fukushima is concerned that the proposals are all based on the old notion that child rearing is a woman's task.
"Men should also have the right to engage in activities for which women used to be primarily responsible, such as child rearing", said Fukushima.
"We know that we still have a long way to go but, one of these days, I hope that men and women can participate in society based on full equality", she added.
Tips for Success
Each table of attendees came up with a practical tip for success. Below are BCCJ ACUMEN's top 10 tips.
Learn how to take credit when deserved
Support other women
Speak out and make it be known what you can do
Create a positive, energetic aura
Don't be afraid to try new things
Never be afraid to ask questions
Don't be afraid of what you don't know
If your firm doesn't give you opportunities, move to another one
Surround yourself with good people who help better your weaknesses
Don't be afraid to ask for help