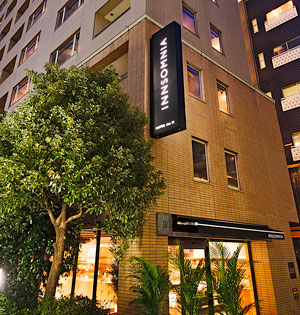 In today's dynamic world, the spaces in which we live, work and rest need to adapt to the lifestyles that so many of us lead. That is particularly true in a bustling city such as Tokyo, which is itself seeing the adoption of new attitudes to work, with a demand for flexibility on the rise.
Accommodating this change is HOTEL the M INNSOMNIA, which was launched in March 2016 and is located in Tokyo's Akasaka business district. With its 24/7 facilities and convenient location, HOTEL the M INNSOMNIA akasaka has been designed around the needs of guests with diverse schedules and a hunger for true cultural experiences. This is topped off with a modern design—sophisticated wooden tables, exposed concrete—that matches the modern lifestyle that the hotel accommodates.
Rooms to suit you
A range of apartment-style rooms are available based on size and design features (some including Japanese décor), allowing guests to choose one that best suits their needs. But this isn't like a typical Japanese business hotel—even the smallest room has a lounge area and workspace.
And these rooms are augmented by a number of special rooms that are available to both guests and visitors.
Job done
HOTEL the M INNSOMNIA akasaka's "Workaholic" room provides the optimal environment for productivity and creativity for those who need to get work done during their visit. Featuring a boardroom table that's ideal for meetings and conference calls, a top-quality audio system and high-definition television with multiple channels, as well as a whiteboard occupying a whole wall, "Workaholic" has everything you need to achieve your goals.
What's more, once work is over, "Workaholic" easily converts into a space to relax and unwind with colleagues. Sports and films can be accessed on the television through the hotel's entertainment library, and comfortable leather seats, complete with footrests, are available to kick back on.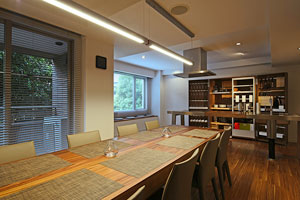 Wining and dining
For those looking to socialise, but lacking their own space to do so, HOTEL the M INNSOMNIA akasaka's "Kitchen Drinker" room is the ideal venue for dinner parties. Equipped with top-of-the-range cooking facilities, storage designed by German firm Bulthaup and a dining table with seating for eight, this room is the ideal place to enjoy good food, and even better conversation, whenever suits you.
Step up the pace
An active lifestyle requires a healthy body, and for that the "Muscle Pain" gym has everything you need to stay in shape and on top of your game. Open 24 hours a day, the equipment from Italian manufacturer Technogym's Wellness Collection is available whenever you need it.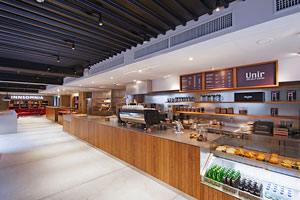 Keep refreshed
Living life in the fast lane requires constant refreshments, and HOTEL the M INNSOMNIA akasaka has you covered at all times. At our café, which is open 24 hours a day, guests can receive complimentary coffee from the Kyoto brand Unir. Pair a cup with the cafe's delicious croissants from Kyoto's Le Petit Mec bakery for the perfect snack to keep you going at any time of the day.