Businesses need the courage to venture out into the vast and unregulated territory of the Internet to exploit its myriad opportunities.
Former BCCJ President Graham Harris stands in front of the crowd to explain how, 20 years ago, the world changed forever. Moments earlier, speechwriter John Harris had taken the podium to reveal the secret of his craft lies not in "data delivery", but in the telling of a good story.
Don Knight is asked to stand up and speak. He complies and improvises a two-minute stream of consciousness about teaching his 50-kilogram dog to swim in Australia, having his skin fall off during a one-week period, the perils of growing old, and several other completely disconnected topics.
Welcome to Breakfast Toastmasters, a Tokyo-based chapter of the famous network aimed at developing public-speaking skills. The speeches were just part of a sumptuous celebration in Tokyo on 22 January to mark the chapter's 20th anniversary.
"Do you remember what you were doing in 1990?" Graham Harris — a founding member of Breakfast Toastmasters — asks the crowd at a hotel in Minato Ward, Tokyo. It was a pivotal year, he explains, when the three greatest events of the modern world occurred.
"No. 1 was in Europe, when the Berlin Wall was coming down. And the second was in Africa with the release of Nelson Mandela, who had been imprisoned for 26 years. No. 3 was in Asia. Here in Tokyo. It was the formation of Breakfast Toastmasters".
"That's not actually true", Harris adds over applause and laughter, "it wasn't number three — it was actually number six or seven".
As typical of a Toastmasters' event, the birthday bash featured plenty of schmoozing and a slew of polished speeches.
That included the 10-minute podium appearance by John Harris. Many people he meets, he said, are under the erroneous impression that CEOs write their own speeches. "Is that time well spent for a CEO?" he asked, given that an effective speech requires plenty of time and effort and that the opportunity cost of a single hour for a corporate chief can be in the hundreds of thousands of dollars. "A bit rich for on-the-job training, I think".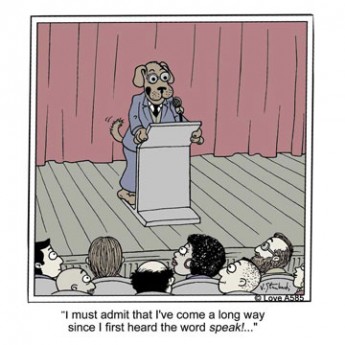 The keynote presentation was given by Breakfast Toastmasters alumni David Meerman Scott, a marketing strategist who has since placed his public-speaking skills at the centre of a very successful business empire. The former Tokyo resident is not just a well-paid public speaker, but also a global bestselling author. The New Rules of Marketing and PR: How to Use News Releases, Blogs, Viral Marketing and Online Media to Reach Buyers Directly is being published in 24 languages
(see page 39).
"Raise your hand if you're a fan of the Grateful Dead," he urges the crowd during his presentation, which is based on the book's basic concepts.
"I'm a huge fan", he said. His affection for the '60s-vintage counterculture rockers is not limited to their music, but includes their marketing savvy.
"They lost control of their music", Meerman Scott explains, as he starts to play concert footage on a large video screen above his head. "They let their fans record their music at concerts, and they let them bring their recording devices … and they let them tape their music.
"All the other bands said 'no recording' on their tickets. No video, no audio, no cameras. But the Grateful Dead said, 'Sure, go for it' ".
And this was a good thing? The audience members were left to wonder for a moment before Meerman Scott cut in, "As a result, the Grateful Dead became the greatest touring band in history: as a result of losing control of their marketing".
So let that be a lesson to firms grappling with their marketing strategies in these harsh economic times. By "losing control", Meerman Scott means that businesses need the courage to venture out into the vast and unregulated territory of the internet to exploit its myriad opportunities.
Blogs, Facebook, Twitter and Youtube are all free for users, and they also have the potential to reach billions of people.
Meerman Scott cites the case of a Boston dentist, who ditched her contract with the Yellow Pages and started her own blog. She writes about such topics as the link between healthy teeth and good sex and how smoking pot can destroy the gums. Thousands, if not millions, of web surfers tuned in. Her office was inundated with calls. Her business quickly went from being worth $150,000 to about $1 million "by doing free marketing", says Meerman Scott, much in the same way that all those bootleg recordings of the Grateful Dead help draw legions of "dead heads" to concerts.
Meerman Scott is the consummate public speaker. With a tiny wireless microphone pinned to his lapel, he wades into the audience, plays the occasional slide or video, tells jokes and, above all, hammers home his message — about how the best things in life are free for the savvy marketer.
At the end of his presentation, he turned to the front centre table, populated by the founders and veteran members of Breakfast Toastmasters, including President A. J. MacKinnon, to offer his appreciation to the organisation.
"There is no question in my mind", Meerman Scott said, "if I hadn't done Toastmasters, there's no way I would have been a professional speaker.
I wouldn't have had the guts".