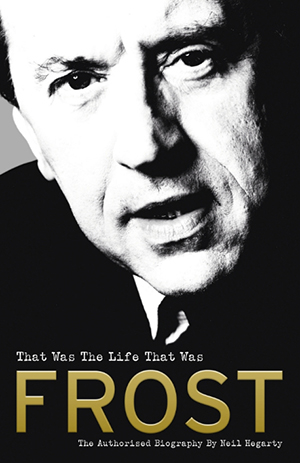 Sir David Frost OBE (1939-2013) is the only person to have interviewed every British prime minister since 1964, when Harold Wilson KG OBE took office, as well as seven presidents of the US. Most notable of these is perhaps his series of meetings with Richard Nixon that inspired the Peter Morgan stage play, and 2008 film, Frost/Nixon.
Frost also interviewed other world leaders including Nelson Mandela, Mikhail Gorbachev, Vladimir Putin, Henry Kissinger, Benazir Bhutto, Shimon Peres, Yasser Arafat and Benjamin Netanyahu. Many of these interviews took place in turbulent times and became, in themselves, defining moments in history.
But politics was not the only area to engage Frost's interest and intellect. He spoke to film stars and royalty, musicians and authors, comedians and sporting greats — and was seemingly at ease with them all.
His beginnings were humble; he was the son of a Methodist minister and, throughout his life, he never forgot the principles he had learned from such an upbringing. He may have been the world's first truly international television star — at one point he was hosting shows on both sides of the Atlantic at the same time and commuting twice weekly, becoming one of Concorde's most frequent flyers — but, as Neil Hegarty's book shows, he never lost his warmth, kindness and charm.
Underneath all the glamour was a deeply private man. That Hegarty manages so well to capture the real Frost is in no small part due to the close collaboration he enjoyed with Frost's wife and their three sons. All of them contribute to telling the story, allowing the author access to a vast archive of materials, some of which have never before been published.
Frost's friends and former colleagues also shared generously their thoughts and memories of working with him, from the earliest days at the University of Cambridge through the years of success on both sides of the Atlantic and more recently at Al Jazeera Media Network.
Frost's first big break came in 1962 when writer and producer Ned Sherrin CBE chose him to host a satirical programme called That Was The Week That Was. TW3, as it was also known, was a daring new departure for the BBC and changed the way people saw late night viewing. Frost was right at the cutting edge as frontman of these live broadcasts.
The changing political climate in the UK led the BBC to develop cold feet and the series was cancelled, but not before it had established itself (and Frost) as important elements of Saturday night entertainment. It also led to Frost being offered work as a host on US television. The rest, as they say, is history.
At well over 400 pages, this book is no lightweight but it is so beautifully written that it is a delight to read. It explores the details of a life that was fascinating and well lived. Although it is Frost's authorised autobiography and his family had a hand in it, it is, for the most part, free of hagiography and will stand for years to come as a defining history of television journalism.