When the British business community in Japan comes out to celebrate its successes and achievements, it does so in style. And so it was again this year, when a record number of members of the British Chamber of Commerce in Japan turned out on 13 November for the 2015 British Business Awards.
Held at The Palace Hotel Tokyo, the eighth annual awards ceremony was the largest event organised by the chamber in its 67-year history, with 285 BCCJ members and their guests sitting down to a sumptuous British-themed meal, entertainment and recognition of business talent in this country.
Organisers said demand was so strong that dozens of additional seats could have been sold. Next year's awards ceremony may need to find an even larger venue.
The headline sponsor for the evening was Jaguar Land Rover Japan Ltd., with two of the brands' vehicles attracting envious glances outside the main entrance to the hotel.
The glittering evening commenced with a champagne reception overlooking the moat and the Imperial Palace. Guests were also able to sample from the smooth Fever-Tree and Sipsmith gin and tonic bar, courtesy of Whisk-e Ltd., as well as the more punchy Punk IPA by BrewDog.
Nominees for the evening's awards were invited to be photographed while British classics selected specially for the evening by Guy Perryman played.
The doors to the ballroom—bathed in red, white and blue—opened at 7pm, with guests entering to the spirited sounds of The Conductors Party Band performing yet more British hits, including numbers by David Bowie and Amy Winehouse.
The recreated tolling of Big Ben summoned revellers to their seats, with Perryman and Madoka Kato once again acting as masters of ceremony for the evening and inviting David Bickle, BCCJ president, to make some opening remarks.
Bickle expressed his deep gratitude to the 40 member firms of the chamber that had supported the ceremony, which would see six companies and individuals selected as winners from among 30 nominations.
Tips from sport
Unsurprisingly, given the recently concluded Rugby World Cup in England, Bickle highlighted the Japanese side's stunning performance, particularly against the mighty South African Springboks, as an example of what is similarly needed to succeed in business in Japan.
"Tenacity and persistence are indeed fine qualities for sports persons and I think you can combine the essence of these into the word resilience", he said. "And for most people and businesses, where success does not come easily, you've certainly got to be resilient to survive.
"Looking beyond rugby, I think it is resilience that enables people and businesses to get up after being knocked down", he added. "It's easy to post great results when the economy is booming, but it is resilience that provides the foundation on which great businesses can build, excel and innovate in both good times and bad.
"Our nominees tonight have shown an amazing array of qualities to stand out from the crowd, but if you look into the heart of what makes each one successful, I think you will find overwhelming reserves of strength and resilience, which are qualities to which we should all aspire".
Best British fayre
After the toast, guests were served six courses from a Great British Menu. Champagne and wine pairings, including a 2013 Berrys' New Zealand Sauvignon Blanc Seifred and a 2010 Coteaux de la Loire Vieille Seve, were provided by Berry Bros. & Rudd.
To start the meal, guests enjoyed Scottish smoked salmon served with pickled onions, caviar horseradish cream and blini, followed by creamy asparagus soup and seared scallops. The excellent roast beef tenderloin came with a truffle sauce, crushed potatoes and seasonal vegetables, and was followed by carrot cake with cream cheese frosting and stout ice cream before coffee and sweets were served.
After the diners had recovered their composure, British Ambassador to Japan Tim Hitchens CMG LVO was invited to the stage for the main event of the evening: the presentation of the awards.
Speaking to BCCJ ACUMEN afterwards, he said it had been a "great pleasure" to once again be able to present trophies to the deserving winners of the awards, in recognition of their successes here.
Leading in innovation
"Japan is Britain's biggest export market, after Europe, the US and China, and was worth £10.1bn in 2014, continuing the strong trend of growth from £8.2bn in 2011, despite the strong sterling headwinds", he added.
"From Airbus winning contracts with JAL, to Britain winning valuable contracts in nuclear decommissioning, Japan continues to be a challenging but rewarding market for innovative British businesses.
"Through our Innovation is GREAT campaign, we are showcasing the UK as a global leader in innovation—from electric vehicles to offshore wind—and promoting partnership between the UK and Japan by engaging and influencing business, research institutes, government and the general public.
"The 2020 Olympics and Paralympics are a major opportunity for the British companies that helped make London 2012 such a success, in areas ranging from design to cyber security", he added.
Celebrating success
For the fourth year, the trophies were created by British artist Kate Thomson of Ukishima Sculpture Studio in Iwate Prefecture.
The first prize to be awarded was for Entrepreneur of the Year, a category that demanded the five nominees demonstrate entrepreneurial spirit. It went to Junko Kemi, who founded the women's business apparel brand Kay Me International Ltd. in 2011.
The award for Community Contribution came next as law firm Hogan Lovells fought off strong competition from five other companies. It was commended for its Citizenship Programme, under which all of the company's staff complete 25 hours of volunteer work every year.
The third award of the evening was for the best UK–Japan Partnership and was awarded to Hitachi, Ltd. Rail Systems Company and the UK Department for Transport, for their collaboration on an £82mn railway vehicle plant in County Durham.
The Person of the Year Award was different; it was chosen by BCCJ members via an online vote, with Rob Williams emerging victorious for leading the Knights in White Lycra cycling group, which raises funds for communities in Tohoku that were devastated by the Great East Japan Earthquake and tsunami.
Accepting his award, Williams emphasised that the knights' work is on-going, and urged members of the chamber to "put on your lycra and join us".
Five firms were nominated for the Innovation Award, which went to Business Link Japan K.K. for its dedicated digital platform designed to increase exports from the UK to Japan.
The final award of the evening went to the Company of the Year, with Ove Arup & Partners Japan Ltd. taking the accolade for its achievements working with the Tokyo Metropolitan Government and the organising committee for the Tokyo 2020 Olympic and Paralympic Games.
The awards ceremony ended with guests playing a game of heads and tails to win a pair of business class tickets to any of British Airways' European destinations, before attendees moved on to an after-party in the Yamabuki Foyer.
Sponsors
Headline sponsor
Jaguar Land Rover Japan Ltd.
Sponsors
Freshfields Bruckhaus Deringer
Thermo Fisher Scientific K.K.
In-kind sponsors
Berry Bros. & Rudd
BrewDog Japan
Isle of Arran
Leica Professional Store Tokyo Ogilvy & Mather
Syn Songs
Whisk-e Ltd
Media sponsors
Custom Media K.K.
Financial Times Ltd.
Guy Perryman
A number of firms also donated a selection of prizes for the raffle and goody bags.
Judges
Brian Christian, principal, The British School in Japan
Chris Heffer, director of UK Trade & Investment, British Embassy Tokyo
Masahiro Ibi, managing executive officer, Kawasaki Heavy Industries, Ltd.
Yuuichiro Nakajima, managing director, Crimson Phoenix Limited
Mariko Oi, reporter, BBC News
Jean Tomlin OBE, chief executive, Tomlin & Co. Limited
2015 Winners
1. Company of the Year
Arup
(Ove Arup & Partners Japan Ltd.)
Operating in Japan for 26 years, Arup has established a position as virtually the only foreign engineering consultancy in Japan. The firm has successfully completed a number of high-profile projects and cemented its reputation for creative design, technical excellence and strategic management.
In 2015, Arup was appointed design engineer for the Aquatics Centre to be built for the Tokyo 2020 Olympic and Paralympic Games. This appointment is in addition to its on-going advisory role to the Games' organising committee on venue brief review, as well as transport, security and sustainability.
2. Entrepreneur of the Year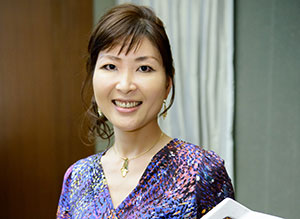 Junko Kemi
(Kay Me International Ltd.; Winning Women Network)
In the fiercely competitive ladies apparel market, Kay Me International has carved out a niche by becoming a problem-solving brand that addresses the needs of modern, professional women.
After starting with limited financial resources, founder Junko Kemi used her marketing and consulting background to analyse data and identify trends in the market. From a start-up in 2011, Kay Me had a turnover of £1.2mn in fiscal 2014. For the current year, that turnover is projected to grow to £2.2mn, with female newscasters and actresses wearing Kay Me designs.
3. UK–Japan Partnership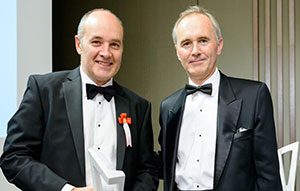 Hitachi, Ltd. Rail Systems Company and the UK Department for Transport
In September 2015, Hitachi Rail joined with the UK Department for Transport and Prime Minister David Cameron at the official opening of an £82mn rail vehicle manufacturing facility in County Durham. It was an occasion that marked the return of railway manufacturing to its home in the North-East of England.
The facility is building the new InterCity Express trains for the East Coast and Great Western main lines, and the AT200 commuter trains for Scotland.
With a history that dates back to 1910, Hitachi Rail entered the British market with the new V-Train 1 in 2002. The fleet remains one of the highest performing and most reliable in the UK.
4. Community Contribution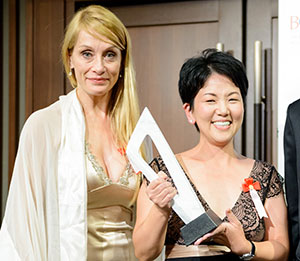 Hogan Lovells Horitsu Jimusho Gaikokuho Kyodo Jigyo
Hogan Lovells operates a Citizenship Programme and a Breaking Barriers Programme. Under the former, the firm's staff and lawyers carry out 25 hours of citizenship work a year, which adds up to close to 2,000 pro bono hours in support of charities and aid organisations each year.
The firm is providing legal support in the run up to the 2020 Paralympic Games. It also helped kimono makers in Tohoku, assisted O.G.A. For Aid, organised the collection of books for Chikkyuu no Gakkou, and took part in Run for the Cure for cancer.
The Breaking Barriers Programme is designed to support Japanese female in-house counsel.
5. Innovation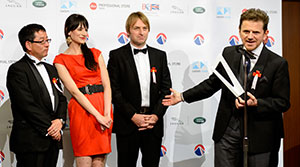 Business Link Japan K.K.
Already successful in bringing together British exporters and the Japanese market, Business Link Japan K.K. offers the world's first dedicated digital platform designed to further increase exports from the UK to Japan.
The core objective of the project is to break the mould of traditional business methods, to utilise technology to speed up the flow and to provide businesses with access to relevant, high-quality information.
Having overcome a series of challenges, the project is now a comprehensive site, which welcomed 35,000 UK business visitors in 2014. Business Link Japan aims to increase that to a total of 60,000 in the next 18 months.
6. Person of the Year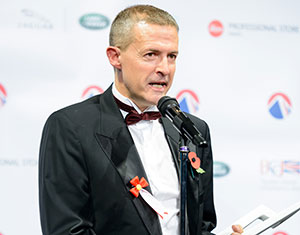 Rob Williams
Synonymous with the Knights in White Lycra—the group of cyclists that again this year cycled from Tokyo to Minamisanriku in Miyagi Prefecture and raised ¥6.8mn for O.G.A. For Aid—Rob Williams is instrumental in numerous other fund-raising and community-building efforts in Japan.
He organises monthly Brits at Lunch events that bring together the expat community and help build new business relationships and friendships. The group's annual fundraising drives have benefited another Tohoku relief project and TELL.
Williams also runs the Tokyo Brits Facebook page that supports, without charge, small British businesses and entrepreneurs in Japan.