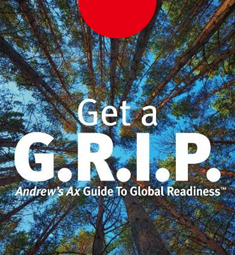 Getting Off to the Right Start
January is traditionally a time for making new year resolutions and for setting or reviewing goals, whether personal or professional. So it is timely that this month's books promise to help you thrive and prosper. However, they couldn't be more different.
Andrew W Silberman's Get a G.R.I.P. will feel immediately familiar to anyone who's ever subscribed to—or even simply read—Andrew's Ax, his newsletter with the tagline "The Cutting Edge for Global Thinkers".
The writing is clear, natural and gets right to the point; there is no artifice. Reading a chapter is like being in one of Silberman's workshops; he speaks to the reader directly with a sense of real purpose that nevertheless manages to be light-hearted. This is what sets the book apart from just about every other handbook on leadership I have read.
At no point does the author take himself too seriously, which of course makes it much easier for the reader to pay serious attention to what he has to say. And virtually everything he says is deserving of that attention, even if at first reading it seems somewhat obvious.
But that, surely, is the point. Page after page I found myself thinking, "I know that," only at once to catch myself asking, "so why am I not applying that in my life right now?"
The book is broken down into 32 chapters, each one of which takes a leadership issue, discusses it and then invites the reader to undertake a short exercise, usually based on completing sentence stems.
Each chapter is introduced by an appropriate quote from a song that may be easily found on iTunes or YouTube. The suggestion is that you play the particular song as you complete the exercise, to be taken in steps: one chapter/exercise per week. The result is a 32-week programme designed to help you create your own Global Readiness™ Improvement Plan.
To label this as a self-help book is to demean it. It is, however, a serious practical guide to making progress in your own personal development and one that I'm resolved to follow for the prescribed 32 weeks.
———————————————————————————————————————————————————————–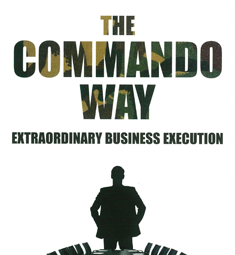 Damian McKinney, chief executive officer and founder of McKinney Rogers, takes an altogether different approach to business development.
A former commando with the Royal Marines, he brings to bear his extensive military experience on the corporate world in completely uncompromising terms. The title of his book, The Commando Way, says it all.
He begins the book with six essential building blocks; six questions a marine commander might ask himself and his team as they prepare for a mission. Applying these to the corporate situation, he sets out to demonstrate in six chapters how the same building blocks can be the foundation of a successful business strategy.
His arguments are often compelling but are not ideally served by the way in which they are presented. The language is, at times, autocratic and at others, unsympathetic.
The editors have chosen to render certain chapters—which the author calls "briefings"—in a faux typewriter font that is both gimmicky and difficult to read. The neutral observer may be tempted to ask if a seriously intended business publication really benefits from such pretension.
Some interesting case studies are raised but they are sadly not explored in the depth you would expect from a book that claims to point the way to extraordinary business execution.
Here again, the discerning reader might wish for more editorial clarity, just as the designers might have thought more carefully about the odd mix of fonts and page layouts.
In all, a curious book which has merit despite its shortcomings.