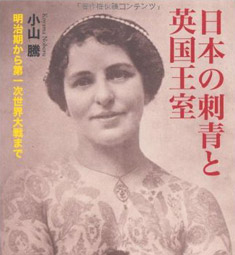 Japanese Tattoo and the British Royal Family (272 pages; ¥3,600), by Noboru Koyama, was reviewed by Fumiko Halloran
for The National Bureau of Asian Research on 15 April. The Japanese tattoo, or irezumi, dates back to prehistoric times but has never captured the local imagination except among yakuza gangsters, prostitutes, secret societies and labourers, the review said. Nevertheless, at least four British royals—Prince Alfred, second son of Queen Victoria; Prince Albert Victor and Prince George, later King George V, and Prince Arthur of Connaught—have been tattooed by Japanese masters.
While some public bathhouses today have signs saying that those with a tattoo are not welcome, Lord Charles Beresford, a navy admiral and a member of parliament, had his back tattooed from shoulders to bottom with scenes of fox hunts.
The Meiji government considered irezumi tattooing a barbaric custom and an embarrassment, so banned its practice. In 1922, when Edward, the Prince of Wales, eldest son of King George V and later King Edward VIII, visited Tokyo, he complained in a letter to the king that he could not have a tattoo done because the Japanese government had objected. The author asks: "Shouldn't the Meiji government have taken diplomatic advantage of the enthusiasm in the British royal family and aristocracy for Japanese tattoos to solidify British-Japanese relations, rather than denying them the opportunity to get tattooed, as with the Prince of Wales Edward?"