Back to nature with tree houses
Takashi Kobayashi had always felt smothered by Japanese society but had no idea how to escape from its embrace. Walking through the Tokyo suburb of Harajuku one day, he saw a shop sign depicting a tree growing out of a rock face and, perched in the branches, a tree house. The shop's owner, who didn't want the sign, gave it to Kobayashi, changing his life.
"That tree and house were symbolic of my life outside Japanese society", Kobayashi said.
For the next three years he continued selling used clothing and other items that he picked up at flea markets until, on a buying trip to Boston, he came across a tree house bar and read a photo book by Peter Nelson, the world's most famous advocate of living in trees.
"At that point, I didn't even know the term 'tree house', but it was a very emotional feeling", he said. "Power went to my head from the first tree house I built, and that was 25 years ago".
Kobayashi, 54, freely admits that he had none of the carpentry or construction skills required to build his first tree house, but said he just wanted "to make something that would let me feel free.
"Japanese society is too structured and systematic", he said. "I have hated that feeling since I was a child and I wanted to do something from my heart, but couldn't find what it was".
Kobayashi—the only professional tree-house builder in Japan—considers himself fortunate to have been able to identify his passion and turn it into a career. Over the past 20 years, he estimates he has built about 100 tree houses, some of which were for projects in Cambodia and Laos.
One of the houses is at Shimin no Mori Park, inland from Chigasaki, Kanagawa Prefecture. First having to overcome the concerns of the local authorities—who feared a tree house would be much too dangerous—Kobayashi finally completed a ¥7mn tree house made of locally sourced cedar.
The structure has trap doors; suspended bridges that sway and have rope sides; a lookout some 8m off the ground; and a variety of platforms and steps, all of which make it a child's paradise.
"People lived in trees before they came down to the ground", Kobayashi said. "Monkeys are our ancestors and it's in our DNA to have a feeling of empathy for trees.
"Everything today is industrialised and globalised; people are materialistic and we use too much energy", he lamented. "[Some] people are tired of that. They believe that something must change, but they don't know what, or how to bring about change.
"A tree house is very primitive—forests and trees are living things. They do not want to move, they do not eat anything, or need oil. All they need is soil and water".
The founder of the UK's most famous tree house firm—Blue Forest (UK) Ltd.—also discovered his love for the high life in Japan.
Andy Payne, 37, spent several years in Aomori Prefecture—ao meaning blue and mori forest, hence the name of his firm—working with a Canadian timber frame firm, before returning to Britain and helping a friend construct a tree platform and raised walkway in Kenya to support a charity conservation effort. Blue Forest was born shortly thereafter.
"In the private sector, our clients are primarily successful businesspeople, high-net-worth individuals, celebrities and even royalty", he told BCCJ ACUMEN. "In the commercial segment of the market, we deal primarily with the hotel and leisure industries, as well as private schools".
The most luxurious project the firm has undertaken was for a private client. It features two lofty retreats—one for the children and one for the parents—with a dramatic canopied walkway, an adventure play area and an assault course. The price tag was £250,000—but the firm's designs start at just £15,000.
"I believe the British have a long tradition of building 'follies', and tree houses are a part of this", Payne said. "The tree house at Pitchford Hall, near Shrewsbury, was built in the mid 18th century and is a good example of how far back the tradition goes. Besides the tradition, tree houses are synonymous with imagination, adventure and escapism—things we all would like in our lives.
"Perhaps the most common reason for building a tree house is delight", he added. "The majority are little more than a few planks of wood that last a couple of summers. However, their construction is currently flourishing like never before, with tree houses being built for a variety of reasons. Offices, playrooms, guest houses and alternatives to conservatories can all be found perched in the trees".
www.treehouse.jp | www.blueforest.com
The Tearoom-inspired Treehouse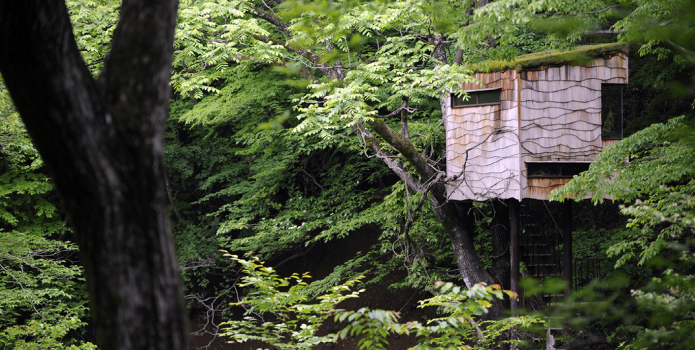 Takashi Kobayashi created the Treehouse at the Niki Club, in Yokosawa, Tochigi Prefecture with inspiration from such places as Japanese tearooms. The Treehouse adds interest to the forest grounds and provides creative thinking space for resident and visiting artists.
Kobayashi, who has created more than 100 tree houses around the world, is a member of the Niki Club's Garden Project, which is planning to create gardens at its resorts over the next 10–20 years in a project organised by Biotope, an NPO.
The Garden Project employs many specialists such as designers, biologists and ecologists who will create gardens based on the idea that Japanese culture coexists with nature. This project symbolises the respect that Niki Club has paid to nature, as well as the attempts to coexist with it since its foundation. As a result, the garden is full of surprises with rabbits and squirrels found among plants at a risk of extinction. Future plans include having an eco-village at the resort and introducing a garden artist on a resident scholarship programme.
Niki Club founder Hitomi Kitayama said: "It has been a quarter of a century since I was first drawn to Yokozawa and built a six-room resort here. Today, Niki Club offers 41 guest rooms spread out over an immense 14ha, and is closer than ever to my original vision. At Niki Club, you will find buildings that vividly recall the colours and ambience of traditional Japanese inns, staff who conduct themselves in ways that harken back to ancient rituals, as well as the Japanese spirit of hospitality that is rooted in such conduct".
For further information, please contact:
Niki Club | Tel: 02-8778-2215 | Email: concierge@nikiclub.jp | Website: www.nikiclub.jp/